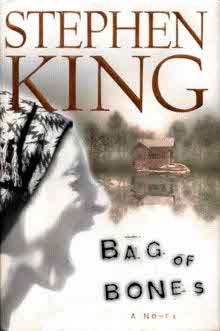 ABOUT THE BOOK: Bag of Bones by Stephen King was published on 22nd September 1998 in English. Scriber was the publisher of the book.  Bag of bones won the Bram Stroke Award for best Novel in1998 and The British fantasy award for best novel in 1999.
The Magazine of Fantasy and science fiction reviewer 'Charles de Lint' declared this book to be a powerfully moving novel. Here we provided the detailed Summary & Study Guide as well as analysis to help you understand the book. The detailed summary and review also contains topics for Discussion on Bag of Bones by Stephen King Book.
Bag of Bones by Stephen King Book Details:
Name of the Book: Bag of Bones
Publish Date: 22nd September 1998
Author: Stephen King
Published by: Scriber
Price: ? 277.00
Pages: 529
ISBN: ISBN 978-0-684-85350-5
ABOUT THE AUTHOR STEPHEN KING
Stephen King was born on 21st September 1947 (age 68) at Portland, Maine, United States. His parents are Nellie Ruth and Donald Edwin king born in Scarborough and Seaman respectively. King's mother died due to illness in 28th December 1973. He got married to Tabitha king on 1971 and they had children named Naomi, Joe, and Owen. From his school age, he starts writing for fun.
His school age was completed at Durham elementary School and graduated from the Lisbon Falls High school in Maine. He was a Novelist, writer, singer, musician, short story writer, and columnist. King got a medal for distinguished contribution to American letters, Hugo awards, Bram stroke award, Nation medal of arts, and some other awards. Some other novels by the author were given below:
CARRIE – 1974.
THE SHINING – 1977.
SALEM'S LOT – 1975.
NIGHT SHIFT – 1978.
THE LONG WALK – 1979.
IT – 1986.
THE DARK TOWER: THE GUNSLINGER – 1982.
END OF WATCH – 2016.
BAG OF BONES BOOK SUMMERY / CONTENTS
Bag of bones is a book of 529 pages with ISBN 978-0-684-85350-5. In the story, Mike Noonan was the main character of the story. He was a narrator, also called as a bestselling novelist. He suffers from writing the novel after his wife Jo's sudden death due to an aneurysm. After four years, he went to dark score lake for a vacation house.
On the first day, he met Kyra, a 3 years old girl and her 20 years old young widowed mother named Mattie Devore. He understands that his father in law was trying to get custody of his granddaughter. Mike wants to help them so he hires John, a custody lawyer. On the other hand, he began's writing and he realizes that Jo's ghost was helping to him to reveal the mystery of Sara Tidwell. He was get drowned by Rogette, who is the personal assistant of the Max. But he was survived by the help of his wife's spirit. At the same night unexpectedly, Max gets suicide. After a long research, he got a clue that is all of the drowned children had related to letter K / C.
While they were celebrating the end of a custody battle, they get shooting by some unknown persons and they came back to Sara laughs. In meanwhile, mike was taken under the control of Sara ghost and try to drown the Kyra, but his wife Jo help's him to prevent and attentions him to continue the book.
In the pages, he got the clue that is all the relations within the town and whose children first name starts with K was been killed, now Kyra turn has come. He found that all murders were done by the ghost Sara because she was viciously raped and killed by some men. And her son Kito was drowned into the lake. These all are the generations of those men who killed her. He started searching for Sara's grave and he was stopped by several ghosts but, he never stopped by them and found that Grave, destroyed the bone to end the curse.
There are some important characters in the story, they are
Mike Noonan – Main character and also he was a narrator.
Jo – wife of mike.
Kyra – A 3years girl lived near Sara laughs.
Mattie Devore – 20 years old lady and also the mother of Kyra.
Max Devore – Father-in-law of Mattie.
Sara Tidwell – A blues singer and lady who was raped and murdered.
John Storrow – A custody lawyer for Mattie.
Rogette – Personal assistant of m
If you want full edition about Bag of Bones by Stephen King buy it on online @ Flipkart, Snapdeal, Amazon, etc. Select from the best online store with quickest shipping facility. Please stay connects with us for fresh updates regarding books & its price.