This is the article named as Acupuncture Courses which provides the complete Acupuncture Courses Details such as Various Courses, Eligibility, Duration, Fee Structure, Syllabus, Masters, Subjects, Career, Requirements, and Scope etc. Read the article completely to get all the Information.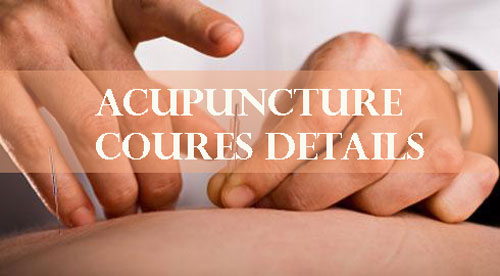 About Acupuncture Courses:
Acupuncture, it is a form of alternative medicine. As a part of treatment in this thin needles are inserted into the body. It is a key component of Traditional Chinese medicine (TCM). TCM theory and practice are not based upon scientific knowledge, and acupuncture is a pseudoscience. Wiki says that it is an Ancient Chinese Practice in which Stimulation to Parts will be done. To get Certified Professionals in Acupuncture we need to do the Course. To know more about these go through the article.
Courses List:
In Acupuncture there are many Types of Courses. They are:
Short Courses
Diploma in Acupuncture
Bachelors in Acupuncture
Masters in Acupuncture
Diploma in Acupuncture:
Diploma in Acupuncture is the course that can be done after 12th. And the duration of this Course is 1 Year. Diploma Certification will be provided for this Course
Duration: 1 year
Eligibility:  10+2
Also See Diploma Courses Details
Bachelors in Acupuncture:
This is the Course which comes Under Bachelors Degree. This is also called as Courses after 12th.  The Course will be having Duration of 3 Years and The Eligibility for the Course is Diploma or 10+2 in PCMB, PCBB.
Duration: 3 Years
Eligibility:
Diploma in Paramedical from recognized board or university
Lateral entry 1- 10 +2 with Diploma in acupuncture/ BTCM  can get admission to 2nd year but will have to appear for English as an additional subject.
Lateral entry 2- Medical graduates, DTCM, M.D.(Acu) can get admission to 3rd year but will have English & Medical ethics as additional subjects.
Subjects:  The Subjects that are covered in Bachelors Degree.
First year– The Subjects in 1st year are
English language-1
Anatomy
Physiology
Social & Preventive Medicine
Fundamentals of Acupuncture
Second year– The Subjects of 2nd year are:
Internal Medicine (Western)
Acupuncture Meridians & Points
Five Element Theory & Points,
Ancillary Acupuncture,
Indian Constitution & Medical ethics
Third year– The Subjects in 3rd Year are:
Classical Acupuncture
Applied Acupuncture
Obstretics & Gyaenecology,
Preliminary TCM,
Environmental studies
Clinical practical
Masters in Acupuncture:
Masters Courses or otherwise Called as PG Courses. The Eligibility For these Courses is Bachelors Degree. And Course will be having 2 years Duration.
Duration: 2 years
Eligibility:  Those who have Completed the below stated Courses will be eligible to do Masters
MBBS, BHMS, BAMS, BUMS, Bachelor of Naturopathy, Bachelor of Acupuncture, DTCM
Syllabus: The Masters Program will be for 2 years
The Subjects that are covered are provided here Year Wise
First year– Acupuncture theory, TCM, Bio-Energy- Advanced Five Elements, Auriculo-Scalp Acupuncture & Acupressure.
Second year- Scientific base of Acupuncture, Application & Techniques, Applied Acupuncture, Clinical Practical
Short Courses:  
we have provided the complete Academic Courses Above. Now let us know about them:
T.C.M- Training  Course in Basic Traditional Chinese Medicine ( Acupuncture/ Acupressure)
T.C.M- Training course in  Detail Advance Traditional Chinese Medicine ( Acupuncture & Acupressure)
C.Ac.  ( Training  course in Cosmetic Acupressure)
Medical Revision Course-
There are some other Courses in Acupuncture:
BBS Diploma In Acupuncture
BSS Diploma In Acupuncture
BSS Master Diploma In Acupuncture & Naturopathy
Certificate In Acupuncture First Aid
Certificate in Sujok Acupuncture '
Certificate in de eddiction Acupuncture
Certificate in Holography Acupuncture
Certificate in  Stress Management Acupuncture
Acupuncture Courses in Kerala:
Kerala is very famous for Treatments like Ayurvedic, Acupuncture etc.  So people prefer to do Course in Kerala. Here is the list of Best Institutes.
The Needle
Dr Pradeep Antony's Acupuncture Clinic, thiruvananthapuram.
Aura Acupuncture,Hijama,Yoga & Natural Medicine Clinic, Ernakulam, Kochi, Kerala
Career:  
After the completion of Course one can start Career as an Acupuncturist with Salary £45 to £90 per session in London
Stay connected with us for more and more updates.