This is the article named as Acting Courses Details which provides the complete Information such as Courses List, Diploma in Acting, Information, Short Courses, Certifications, Skills, Types of Courses, and Concepts, Top 10 Acting Schools in India, Career, etc. Read the article to get the complete information.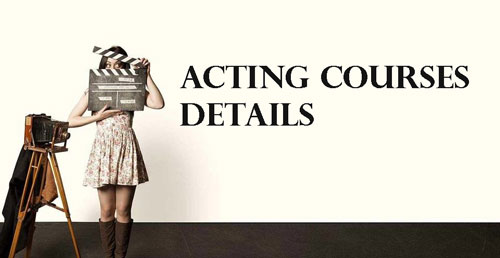 About Acting Courses:
Acting is an activity in which a story is told by means of its enactment by an actor or actress who adopts a character—in theatre, television, film, radio, or any other medium that makes use of the mimetic mode. This is as per wiki.
The Skills that are required for Acting are: Well-developed Imagination, Emotional Facility, Physical Expressivity, Vocal Projection, Clarity of speech, and the ability to interpret drama.
Courses List:
There are various types of Courses in acting. They are:
DIPLOMA PROGRAMME IN ACTING
Part-time Certificate Course
Advanced Weekend Programme
Weekend Workshop
Customised workshops
DIPLOMA IN SCRIPTWRITING
Short Courses:   
There are some Short Courses. Here is the list of the Courses along with their Fee Details is provided:
Story writing for Cinema:
Fee: 12,5000/-
Fundamentals of Cinematic storytelling
Fee: 500/-
Certificate in Film Acting:
This is the Certification Course. After the Course, certification for Acting will be provided.
Duration: 24 weeks
Objectives:
The objectives of the Course are:
Introduction to grammar of filmmaking
Acting in front of Camera & on Stage
Spontaneous Acting Vs. Method Acting (An Introduction)
Characterization, Scene Analysis, Identifying beats
Relaxation Techniques, Blocking and Movement
Mime, Imitation, Improvisation
Voice Training
Dance & Fitness
Modeling
VJing
Grooming & Make-up
Auditioning for a role
Responsibilities of an Actor on a Set
Communicating with the Director and other technicians
Fee Structure:  
The fee will be Rs. 1, 20,000 (including taxes) + 10,000 (security deposit) paid over three installments.
Diploma in Film Acting:
Duration of this course is 6 Months
Syllabus:
Here is the Syllabus of Acting Courses
VOICE & SPEECH – How voice work, (why the voice does not work) The Freeing process (The spine, the support of breath)
BREATHING – The source of Sound The touch of Sound Vibration that amplify the initial sound The channel of Sound Releasing voice from the body – range 4 Breathing power, the Centre Articulation of vocal development Relaxation & breathing Muscularity & words The whole voice & the using of voice Rhythm, timing and singing
CULTURAL HERITAGE – Those of us who now stay in this world are in many ways connected to all those who lived here before us. We may have new technologies and modern conveniences but we share the same heart, space and energy or life force that flowed through their bodies. The observation of life's greatest lessons is for us to read & listen to and be aware of our heritage Indian history provides the understanding of our land, society, religion, political development from ancient to modern times and illustrate richness of our Folk Culture.
COMPUTER APPLICATION – To explain in simple language how computer work and how to write a simple program in BASIC. How Computer can be made use of in various fields of human activity including in Cinema & T.V: Awareness about Computers and their capability, Various components of Computer, Flowcharts & problem solving with Computers, Data storage & representation within a Computer, Software describing need for Computer language, Broad overview of application in various fields including Arts, Making of Power point Presentations
Top 10 Acting Schools in Mumbai:
Mumbai is the location and Center for the Acting. Here is the list pdf about Top 10 institutes in Mumbai.
Actor Studio India : Method Acting Training School By Actor Gaurav Nanda
KREATING CHARAKTERS ACTING INSTITUTE MUMBAI
Roshan Taneja School of Acting
The Drama School
Actor Prepares
Theatre Acting Workshop
Actor Prepares – Andheri
Acting Institute
Barry John Acting Studio Mumbai
The School For Actors – Actor Prepares
Stay Connected with us for more and more updates.