ABOUT THE BOOK: Under the Dome by Stephen King was published in 10th November 2009, English. The publisher of Under the Dome book is Scribner.
This book won awards for mystery/thriller in 2009, British fantasy award nominee for best novel in 2010, locus award nominee for best science fiction novel in 2010.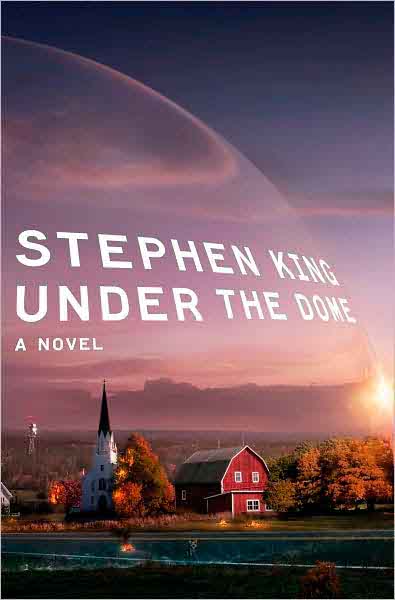 At the mid-day of Chester's mill, Maine, the town suddenly covered by a hemisphere. There was no communication from inside and outside of the hemisphere. It was the famous book in the United States.
Under the Dome by Stephen King Book Details
Name of the Book: Under the Dome
Publish Date: 10th November 2009
Author: Stephen King
Published by: Scribner
Price: 502.00
Pages: 1074
ISBN: ISBN 978-1-4391-4850-1
ABOUT THE AUTHOR STEPHEN KING
Stephen king was born on 21st September 1947 (age 68) at Portland, Maine, United States. Donald Edwin and Nellie Ruth are the parents of the king. His father was merchant seaman in Indiana, where he had born in 1913 in Peru, Indiana. He was married to Tabitha king in 1971 and they both are having children named Naomi, Joe, and Owen.
King attends his school at Durham elementary school and he was graduated from Lisbon Falls High School in Lisbon falls, Maine. For fun, he started writing in his school age, mow he was a novelist, short story writer, screenwriter, singer, actor, musician, and Television producer.
He won Hugo award, world fantasy award, and a national medal of arts. He mainly used pen names or other names as an author to produce many books for a year. There are some other books by the king were given below:
Carrie – 1974.
'Salem's Lot – 1975.
Night Shift – 1978.
The Stand – 1979.
The long Walk – 1979.
Firestarter – 1980.
It – 1986.
End of Watch – 2016.
The Dark Tower: The Gunslinger – 1982.
Pet Sematary – 1983 and much more books, Novels by King.
UNDER THE DOME BOOK SUMMERY / CONTENTS
Under The Dome was a book of 1074 pages and containing the ISBN 978-1-4391-4850-1. Coming to the book a small town called Chester's mill in Maine was suddenly closed or differentiated from the city by an invisible hemisphere.
From that time many accidents take place and so many people were injured due to these accidents. After some time some citizens are together to form a team and try to escape from the dome.
Important characters in the novel.
Major Roles
Dale "Barbie" Barbara.
He is a former Army lieutenant.
Julia Shumway.
A cynical woman who owns and edits the democrat.
James "Big Jim" Rennie.
James was a power-obsessed second selectman of Chester's Mill based on Dick Cheney.
James "junior" Rennie.
Junior is a small-town thug and son of the most influential man in Chester's Mill.
Eric "Rusty" Everett.
He is a kind-hearted physician assistant at Cathy Russell Hospital.
Joseph "Scarecrow Joe" McClatchy.

 

He was a 13-year-old student at Chester's Mill Middle School.
Minor Roles
Brenda Perkins.
Brenda is the wife of the late Chief Perkins.
Frank DE Lesseps.
Frank is a friend of Junior Rennie.
Carter Thibodeau.
Carter is a friend of Junior Rennie.
Melvin Searles.
Another friend of Junior Rennie.
Georgia Roux
Georgia is the girlfriend of Carter Thibodeau.
Andy Sanders
Andy is the town's first selectman.
Phil "The Chef" Bushey
He is the estranged husband of Sammy Bushey and father of Little Walter Bushey.
Peter Randolph

Pete becomes Chief of Police after Duke Perkins' death.
Ollie Dinsmore

Ollie is the son of Alden & Shelley Dinsmore and older brother of Rory Dinsmore.
Romeo "Rommie" Burpee

Romeo is married to Michela Burpee.
Jackie Wettington
A police officer on the original Chester's Mill force.
Piper Libby
It was Reverend of the First Congregational Church in Chester's Mill.
Linda Everett
Another police officer from the original force.
Carolyn Sturges
Graduate assistant at a university.
Thurston Marshall
Professor at a university and acting doctor at the hospital.
Alice Appleton
A person who was separated from her mother due to the dome.
Aidan Appleton
A person who was separated from his mother due to the dome.
Sammy Bushey

Wife of Phil "Chef" Bushey and mother of Little Walter Bushey.
Angie McCain
Daughter of LaDonna and Henry McCain.
Lester Coggins
Reverend of Christ the Holy Redeemer Church in Chester's Mill.
Freddy Denton

He is a Police officer, one of the first to take the changes in his stride.
Dodee Sanders
She is a Daughter of Claudette and Andy Sanders.
Rose Twitchell
The owner of the Sweetbriar Rose, the local cafe. She is a Sister of Dougie Twitchell and Andrea Grinnell and employer of Dale Barbara.
Andrea Grinnell
Town's third selectman and recovered Oxycontin addict near the end of the novel.
Ernie Calvert

Retired Supermarket manager, father-in-law of Joanie Calvert and grandfather of Norrie Calvert.
Stacey Moggin

a dispatcher at the police station.
"Sloppy" Sam Verdreaux
He was a drinker and a heavy smoker for years.
Benny Drake

A teenager and close friend of Joseph McClatchey.
"Audrey" Everett

The Everett's golden retriever.
Norrie Calvert
The daughter of Joan Calvert and granddaughter of Ernie Calvert.
Colonel James Cox
He was the superior of the Dale Barbara, who is outside the dome.