ABOUT THE BOOK: A book StrengthsFinder 2.0 by Tom Rath was published on 1st February 2007 by Gallup Press. It has been translated into more than 20 languages, which is used in 100 nations around the world. It has 2 versions, Strength finder 1.0 and 2.0. At first in 1998 Donald O. Clifton along with Tom rath and a team of scientist at Gallup organization created an assignment in online named strength finder 1.0.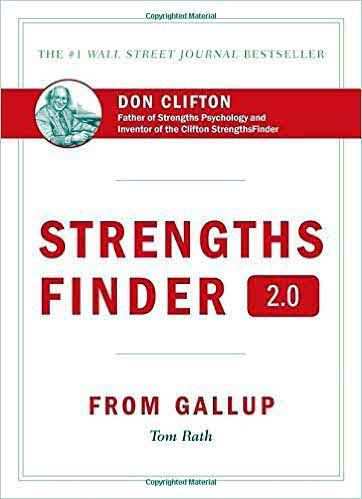 In 2007 Rath and another scientist in Gallup released a new version 2.0 after 40 years of research. It was very helpful for readers to improve their natural talents. It was a non-fiction book. Here we provided the detailed Summary & Study Guide as well as analysis to help you understand the book. The detailed summary and review also contains topics for Discussion on StrengthsFinder 2.0 by Tom Rath.
Tom Rath StrengthsFinder 2.0 Book Details
Name of the Book: StrengthsFinder 2.0
Publish Date: 1st February 2007
Author: Tom Rath
Published by: Gallup Press
Price:   ? 549.00
Pages: 174
ISBN: ISBN13: 9781595620156
ABOUT THE AUTHOR TOM RATH
Tom Rath was born in Lincoln, Nebraska State, United States. He was graduated B.A. Psychology from the University of Michigan and M.S. Psychology from the University of Pennsylvania. Tom has also been a regular lecturer at the University of Pennsylvania for several years.
He lives in Arlington, Virginia with his wife Ashley and their two children. He was previously served as vice-chairman of the VHL cancer research organization. Basically, he was an author, speaker, and researcher who study the role of human behavior in business, health, and well-being.
The other books of the author were given below
2004 How Full Is Your Bucket? Positive Strategies for Work and Life.
2006 Vital Friends: The People You Can't Afford to Live Without.
2007 How Full Is Your Bucket? Positive Strategies for Work and Life. Educator's Edition.
2009 Strengths Based Leadership: Great Leaders, Teams, and Why People Follow.
2009 How Full Is Your Bucket? For Kids.
2010 Wellbeing: The Five Essential Elements.
2015 Are you fully charged: Are You Fully Charged? The 3 Keys to Energizing Your Work and Life.
2015 The Rechargeable: Eat Move Sleep.
STRENGTHSFINDER 2.0 BOOK SUMMERY / CONTENTS
The book "StrengthsFinder 2.0" of 174 pages having ISBN13: 9781595620156. It is divided into two parts in which first part is an introduction of finding your strengths and second part explains about applying your strengths. The concept of the book leads the people to their enriching ideas and here we can see some of the quotes that have been used in the book. They are
"You cannot be anything you want to be—but you can be a lot more of who you already are."
"The key to human development is building on who you already are"
"At its fundamentally flawed core, the aim of almost any learning program is to help us become who we are not."
"Building your talents into real strengths also requires practice and hard work, much like it does to build physical strengths."
And in which it include some examples like an unknown person's experiences towards his achievement of their goal. By this book, we can find out our children's strength.
This companion to StrengthsFinder 2.0 includes:
An overview of the StrengthsFinder 2.0 book
Important people
Key takeaways
Analysis of key takeaways
And much more!