SAT to ACT conversion: Here we are come up with interesting news i.e. SAT to ACT conversion: Do you know the Difference between ACT to SAT? Which is better? SAT Exam is always math section and no one can use any calculators. The next in line is ACT Exam has a Science Test. Colleges accept both tests equally, so the choice is yours. In order to see how ACT and SAT scores compare, we have provided useful information in below table. If you have any details, you can use SAT to ACT conversion chart.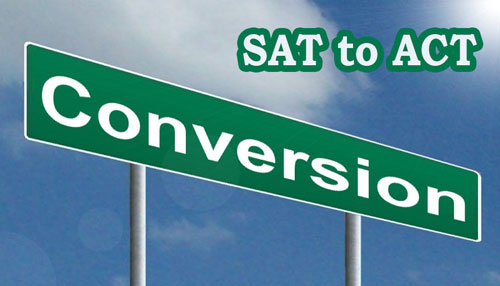 SAT to ACT conversion table
Here we present a detailed info of SAT to ACT conversion in terms of conducting body, purpose of test, accepting SAT Exam scores, Test Cost, Eligibility Criteria, Duration, and Scores, etc. If you are looking for difference between SAT and ACT conversion Chart, read this article thoroughly.
Differences Between ACT vs SAT Tests
We have only included official data points from the College Board on our chart so please use this data for making decisions about whether you should take the ACT vs the SAT.
     ***We hope this comparison helps you understand which to choose from SAT to ACT***
SAT

ACT

SAT stands for Scholastic Assessment Test.
ACT stands for American College Testing
SAT has one Math section
ACT has a Science Test
SAT is conducted by the College Board Organization in the United States
ACT Exam is conducted by ACT, Inc.
Admission to US universities and some other countries like Canada or Singapore.
This test is to undergraduate admissions in US and Canadian universities or colleges
SAT Registration Fee – $43, with Essay $54.50
The cost of ACT Exam is $34 – $49.50
There is no eligibility criterion for SAT Test
No official prerequisite. Intended for high school students.
The SAT is a paper-based test administered at schools
Paper-based standardized test
Test Purpose:

Designed to measure

Reading
Mathematics
Writing and Language
The SAT Essay (Optional)

Test Purpose:

Designed to measure

Reading
Mathematics
English
Writing (optional)
Science

The SAT is a 3 hour 50 minute exam (including an optional essay which takes 50 minutes)
ACT Exam Duration: 3 hours and 25 minutes (excluding breaks)
In SAT the Total scores range from 400-1600
Composite score: 1 to 36, Sub scores (for each of the 4 subject areas): 1 to 18.
SAT to ACT conversion chart
| | |
| --- | --- |
| ACT Composite Score | SAT Composite Score |
| 36 | 1600 |
| 35 | 1560-1590 |
| 34 | 1520-1550 |
| 33 | 1490-1510 |
| 32 | 1450-1480 |
| 31 | 1420-1440 |
| 30 | 1390-1410 |
| 29 | 1350-1380 |
| 28 | 1310-1340 |
| 27 | 1280-1300 |
| 26 | 1240-1270 |
| 25 | 1200-1230 |
| 24 | 1160-1190 |
| 23 | 1130-1150 |
| 22 | 1100-1120 |
| 21 | 1060-1090 |
| 20 | 1020-1050 |
| 19 | 980-1010 |
| 18 | 940-970 |
| 17 | 900-930 |
| 16 | 860-890 |
| 15 | 810-850 |
| 14 | 760-800 |
| 13 | 720-750 |
| 12 | 630-710 |
| 11 | 560-620 |