This is the article Safety Courses Details. This is to provide the complete details about Safety Courses such as Types of Courses, Full Forms, Requirements, and Scope etc. Read the article completely to get all the details.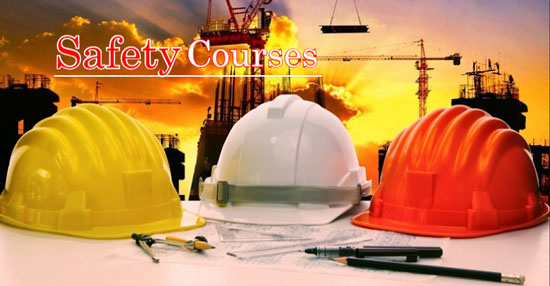 About Safety Courses:
Safety it is the state of being Safe i.e being protected from Harm. NEBOSH can be expanded as National Examination Board in Occupational Safety and Health. It is a UK-based independent examination board delivering vocational qualifications in health, safety & environmental practice and management.
NEBOSH was founded in 1979.NEBOSH offers a range of qualifications from introductory to professional level. Around 180,000 people worldwide hold a NEBOSH qualification.
In this article we provide you the details of Completely Safety Courses.
Courses List:
There are many Types of Courses in Safety. All these Courses come under Diploma Category. The Duration of these Courses is 1 year. The Eligibility for these Courses in 10th.They are:
BSS DIPLOMA IN INDUSTRIAL SAFETY
ADVANCED DIPLOMA IN OCCUPATIONAL SAFETY,HEALTH & ENVIRONMENTAL MGMT
BSS DIPLOMA IN INDUSTRIAL ENVIRONMENTAL SAFETY
BSS DIPLOMA IN INDUSTRIAL SAFETY ENGINEERING
BSS DIPLOMA IN HEALTH, SAFETY & ENVIRONMENT MANAGEMENT
DIPLOMA IN CONSTRUCTION SAFETY MANAGEMENT
BSS DIPLOMA IN ELECTRICAL SAFETY
Eligibility Criteria:
There is no restrictions to do the Safety Course, anyone can do this course, but who will get the jobs!! That is the factor needs to be analyzed
Duration of Course:
The duration of the course is 1 year. Certification will also be provided for these courses.
Syllabus Covered:
The Syllabus differs for each and every course. For a sample we are providing the Syllabus and Subjects of
DIPLOMA in CONSTRUCTION SAFETY MANAGEMENT
Name of the Subject
COMMUNICATIVE ENGLISH & COMPUTER FUNDAMENTALS
PRINCIPLES OF SAFETY MANAGEMENT
OCCUPATIONAL HEALTH & HYGIENE
WORKPLACE & EQUIPMENTS
ENVIRONMENTAL IMPACT & MANAGEMENT
PROJECTS & ASSIGNMENT
PRACTICAL – I
PRACTICAL – II
PRACTICAL – III
PRACTICAL – IV
PRACTICAL – V
PRACTICAL – VI
BSS DIPLOMA IN INDUSTRIAL ENVIRONMENTAL SAFETY
| | |
| --- | --- |
| SNo | Name of the subject |
| 1 | COMMUNICATIVE ENGLISH AND COMPUTER FUNDAMENTALS |
| 2 | ACCIDENT INVESTIGATION |
| 3 | FIRE SAFETY ENGINEERING |
| 4 | ORGANISATION BEHAVIOUR & ELEMENTS OF MANAGEMENT |
| 5 | HSE MANAGEMENT LAW |
| 6 | ENVIRONMENTAL MANAGEMENT |
| 7 | HAZARDS & RISK MANAGEMENT |
| 8 | PRACTICAL- I |
| 9 | PRACTICAL- II |
| 10 | PRACTICAL- III |
| 11 | PRACTICAL- IV |
| 12 | PRACTICAL- V |
| 13 | PRACTICAL- VI |
| 14 | PRACTICAL- VII |
Other Courses:
Other than above mentioned Courses There are some other Courses. They are:
Fire Safety
Health Safety & Environment
OSHA (Occupational Safety & Health Administration)
NEBOSH
Construction Safety
Oil & Gas Safety
IASP/NASP
First Aid
IOSH
Industrial Safety
Diploma Courses:
There are many Types of Diploma Courses available. They are listed below. Have a look.
Diploma in fire and safety Engineering
Diploma in Industrial Safety
Diploma in Construction Safety
Diploma in Oil and Gas Safety
Diploma in Electrical Safety
Diploma in Fire Fighting
Diploma in Health, Safety and Environment
Certificate in Fire and Safety Engineering
PG Diploma in fire and Safety Engineering
PG Diploma in Health, Safety and Environment
Certificate Course on Industrial Safety Management
There are some Certification Courses in Safety Management. The Duration of this certification Course is 6 months. Here are the few Contents of this Certification Course  Basic of Industrial Safety Management, Accidents and their causes, Environment Pollution and industrial safety, Occupational Diseases, Electrical Hazards, Safety in Constructions, Improvement in Working conditions,  Fire Hazards, Hazardous Materials & Chemical safety, Principles of Industrial Safety Management,  Measurement of Accident, Mechanical Hazards, Personal Protective equipments & clothing (PPE) etc.
Fees Structure:
The Fee Structure for these Courses will be 15,000/-
Top 10 Courses in Hyderabad:
Everyone prefers to get admission in best Institute. Here is the list of Top 10 Courses in Hyderabad. Have a look at the list.
Institute for Advance Safety Management- IASM, Banjara Hills
Techno World Group, Abids
Connect IT Solutions, S.R. Nagar
I Mech Institute , Lakdi Ka Pul
Kalva Engineers Pvt. Ltd. – Since 1995 An ISO 9001 Certified Company, Nagole
Invotech Precision Engineers, Mehdipatnam
Institute For Maintenance And Service Engineers IMSE, Kothapet
Craft Educational Academy, Toli Chowki
IELT – Institute of Fire & Safety Engineering, Masab Tank
Techishan Solutions, Tarnaka
Stay connected with for more updates regarding courses, exams, career guides, etc.