ABOUT THE BOOK: The Rich Dad Poor Dad Book was written by Robert Kiyosaki, Sharon Lechter. It was published by Warner Books in English, 1997. This book briefly explains the attitude to earn money and also explains the two men's ways of thinking about their sons.
It is also author personal story towards his childhood.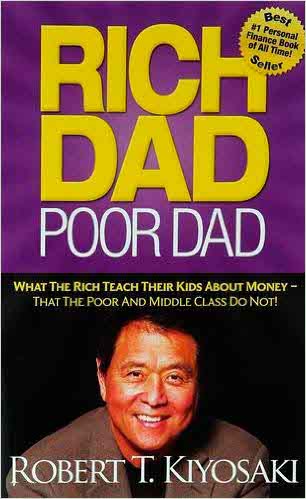 This book was sold over 26 million copies and receives more positive reviews. Rich Dad Poor Dad Book Summary & Study Guide includes comprehensive chapter summaries and analysis etc to help you understand the book. Interested ones buy Rich Dad Poor Dad (Novel) Best Online Stores at Low Prices in India.
Rich Dad Poor Dad by Robert Kiyosaki Book Details:
Name of the Book: Rich Dad Poor Dad
Publish Date: 1997
Author: Robert Kiyosaki, Sharon Lechter
Published by: Warner Books
Price:  139.00
Pages: 207
ISBN: ISBN 0446677450
Contents
Character Summaries
Poor Dad
Rich Dad
The Son (Robert T. Kiyosaki)
Chapter Summaries
Chapter 1: Rich Dad, Poor Dad
Chapter 2: The Rich Don't Work for Money
Chapter 3: Why Teach Financial Literacy
Chapter 4: Mind Your Own Business
Chapter 5: The History of Taxes and the Power of Corporations
Chapter 6: The Rich Invent Money
Chapter 7: Work to Learn, Don't Work for Money
Chapter 8: Overcoming Obstacles
Chapter 9: Getting Started
Chapter 10: Still Want More? Here are Some To Do's
ABOUT THE AUTHOR ROBERT KIYOSAKI
He was born on 8th April 1947 (age 69), Hilo, Hawaii, United States. Now his residence in Scottsdale, Arizona, United States.
Robert Kiyosaki was the founder of the Rich Dad Company and Cashflow Technologies, Principal host of the Rich Dad Radio Show, a financial columnist on Yahoo Finance, and a Former host of rich dad TV on PBS.
Ralph H. Kiyosaki (1919 – 1991) was the father of Robert and he was a school teacher and died due to the lung cancer (i.e. long time smoking). Marjorie O. Kiyosaki (1921-1971) was the mother of the author.
She was a nurse and died due to the heart failure. He was the eldest son of them and his three sisters names are:
Emi Kiyosaki, Born in 1948.
Jon Kiyosaki, Born in 1949.
Beth Kiyosaki, Born in 1951.
He attended Hilo High School and graduated in 1965, later he joined in United States Marine Academy in 1965 and graduated with the class as a Deck Officer in 1969.
Due to his service as a helicopter gunship pilot in Marine Corps during the Vietnam War, he got awarded the Air Medal in 1972. He enrolled in a two-year MBA program at the University of Hawaii at Hilo in 1973. But he discontinues the MBA because he was unimpressed with the professors. Robert was got married to Kim Kiyosaki.
SHARON L. LECHTER
Sharon L. Lechter was another author for the book 'Rich dad Poor dad' and it came from the Rich dad series. She was born on 12th January 1954 (age 62). She was an American accountant, author, businesswomen, investor, motivational speaker, financial literacy activist, and philanthropist.
Michael Lechter was the husband of the Sharon, having the children – Phillip, Shelly, and Rick. She was graduated from Florida State University with an accounting degree. She also won GOLD Mom's Choice Award.
Rich Dad Poor Dad Book Summery / Contents
The Rich dad poor dad book contains 207 pages of ISBN 0-446-67745-0. It mainly discusses the comparison of two fathers, in which one of them was author's real father and another one is author's best friend father.
On the way, both of them were thinking about how to earn money.
The rich father thinks about business and they teach to their children.
But the poor father only thinks about the job and didn't teach anything about business for their children.
The book mainly concentrates on the weak point in which the poor people are not getting rich, some important topics like how to become rich, ways to increase the assets, ways to decrease the liabilities.
Important characters in Rich Dad Poor Dad book are given below:
Poor dad – educated but lacking the street smarts
Rich dad – very little education (8th grade), tons of street smarts
Kiyosaki – the spectator who learns lessons from both but internalizes only rich dad's traits