ABOUT THE BOOK: Oh, The Places you'll Go by Dr. Seuss was published on 22nd January 1990. This book was published by the Random house in English in the United States. This book was a child literature and it is a number one book on USA Today's bestselling book list in 1997.
This book was popular in the United States and Canada. It is the last book by the author and this book used as a guide to future of the student. Interested ones buy the book at best online stores.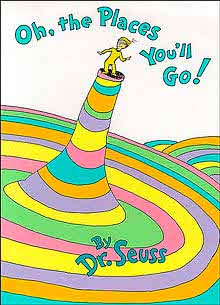 Oh, The Places you'll Go by Dr. Seuss Book Details
Name of the Book: Oh, The Places you'll Go (Dr. Seuss – Yellow Back Book)
Publish Date: 22nd January 1990
Author: Dr. Seuss
Published by: Random house
Price:   834.47
ABOUT THE AUTHOR DR. SEUSS
Dr. Seuss Geisel was the author of this Oh, The Places you'll Go book and he was born on 2nd March 1904 at Springfield, Massachusetts, US. He died due to Oral Cancer on 24th September 1991 (aged 87) at La Jolla, California, US. He attends Springfield Central High School in 1917 and completed at 1921. He was graduated from Dartmouth College in 1925 after that he entered Lincoln College, Oxford for a Ph.D. in English literature but he was discontinued from that degree.
He was married to Helen Palmer Geisel on 29th November 1927, later some years Palmer get suicide on 23rd October 1967 due  to her illness and long struggle about husband affair. He was married to Audrey Stone Diamond on 21st June 1968 and lives with him until the death of Seuss.
Come to his career life, He was a writer, cartoonist, animator, Book publisher, and artist. He was supposed to use many pen names in his books some of them were Dr. Seuss, Theo LeSieg, Rosetta stone, and Theophrastus Seuss. He won the Lewis Carroll Shelf Award in 1958, Legion of Merit, Laura Ingalls wilder medal in 1980, and special Pulitzer Prize in 1984. He published 60 books around his life.
Some of the other books by the author were given below:
If I ran the zoo – 1950.
Horton hears a who! – 1955.
If I ran the circus – 1956.
The cat in the hat – 1957.
Green eggs and ham – 1960.
Oh, The Places You'll Go Book Summery / Contents
It is a children literature with ISBN 0-679-80527-3. This book was started with a greeting message and it was a written in the second person in the use of future tense. The story was led by an unnamed character and he was decided to leave town.
The character travels along several geometrical places and different colors landscapes. As the character involves several situations like to start the things happen to him and it was a different way to encourage the character. And directs him to a positive minded, when ups and downs come in front of him.
By this Oh, The Places you'll Go book, a student can able learn how to live the life, how it happens and how can you think when a confused situation arise. It is very useful book by the author and there were some important quotes from the book were
"You'll get mixed up with many strange birds as you go. So be sure when you step, step with care and great tact and remember that Life's a Great Balancing Act."
"You have brains in your head. You have feet in your shoes. You can steer yourself any direction you choose. You're on your own. And you know what you know. And YOU are the one who'll decide where to go…"