Naturopathy Courses: Naturopathy is an alternative Type in Medical Field. This focuses on Treatment with natural Elements and believes in Self-Healing. Regular Courses are available for Naturopathy. Here is the article which helps to those who wanted to start their career in the Naturopathic Field. This Article provides Information about Naturopathy Course Details such as About the Course, Syllabus, and Jobs etc.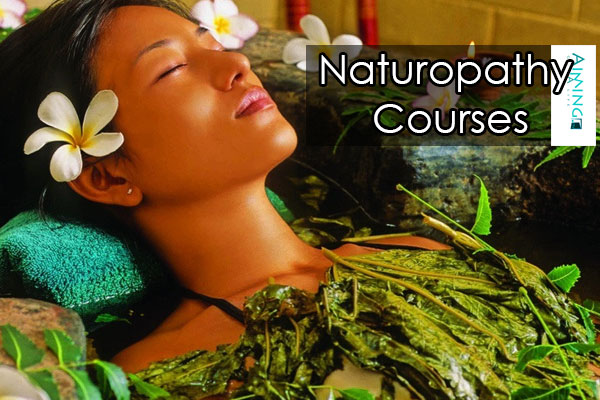 About Naturopathy
What is naturopathy? Naturopathy is an alternative medicine which includes homeopathy, herbalism, and acupuncture, as well as diet and lifestyle counseling.  It focuses on immune, hormone, nervous systems of the body.
The demand for these courses has increased these days. So we thought to help to those candidates who are in search of Information Regarding naturopathy Course Details. Go Through the article below. We have provided the information of Yoga Courses, Physiotherapy Course and First Aid courses read those posts also.
Courses Available
There are various courses in Naturopathy. These are offered by numerous colleges and Institutes.
BNYS
The Full Form of BNYS was Bachelor of Naturopathy and Yogic Sciences. After the completion of BNYS, one can proceed to higher studies like M.Phil or Ph.d. Some other diploma courses are also available in Naturopathy.
Eligibility:  The candidates who are having the interest to join BNYS should meet the eligibility criteria. The candidates should have completed 10+2 with at least 50% Marks in Physics, Chemistry, and Biology.
Age Limit: Minimum 17 years
Diploma In Naturopathy
Eligibility: 10th
Level: Diploma After 10th
Age Limit: 18 years
Fees: 20,000/-
Syllabus
Foundation of Naturopathy, Health & Nutrition
Method of Nature Cure
Disease and treatment by Naturopathy
Fundamental Anatomy of Human Body.
The syllabus differs for BNYC, diploma and also differs from university to another university. To get some idea we are providing the basic syllabus of a diploma. Go through the Subjects and Concepts.
Introduction To Yoga
Types of Yoga
Life Sketch of Ancient Contemporary Yogis and Yoginis
Introduction to Contemporary Yoga Institutes.
Massage Therapy
Practical's
Natural problems
Naturopathy treatment for common problems.
Job Opportunities After Doing Naturopathy Course
There are various disciplines one can work after the completion of Courses They are according to their field and interest. They are stated below.
Academic
Research
Management & Administration
Hospital and Healthcare Administration
Health Supervisor
Naturopathy Consultation as an instructor, expert, specialist, etc.
Government Jobs
Those who have completed Naturopathy Courses also had an opportunity of getting Government Jobs.
There is a requirement of naturopathic Experts in various departments like:
Director
Naturopathy Experts
Therapist
Naturopaths
Publication Officer (naturopathy)
Naturopathy Consultant
Deputy Director
Trainer
Program Officer
Assistant Director
Research Officer
Assistant Research Officer
Naturopathy physician
Salary
The salary range varies based on the experience.  Initially one can get around 20,000- 40,000 per month. Experienced candidates can get more than 1 lakh per month. The pay scale varies for BNYS doctors, Specialists, M.A, Ph.D. experts.
Courses Online
Those who can't afford the fee or those who can't go somewhere to get training Can have Online training. There are many websites which provide Online Courses. The Benefits of Online classes are
One can learn based on their Time Flexibility.
Recorded classes and CDs were also provided.
Provides Certification.
Fewer fees
Also, provides Certification etc.
So find the best online Site and enroll yourself. Some sites also provide Free Training along with certification such as Fair and lovely etc. Learning through Books is another option.
Distance Learning
Various institutes provide Distance Education for Naturopathy Courses. These are beneficial for those who are working but want to do the courses.
Naturopathic Schools
Here we also provide Top5 Colleges for Naturopathy in India
Naturopathic Medical College, Hyderabad, Andhra Pradesh
Narayana Yoga & Naturopathy Medical College, Nellore, Andhra Pradesh
Devs Yoga & Naturopathy Medical College,  Rangareddy district, Andhra Pradesh
Mahavir College of Naturopathy & Yoga, Durg, Chhattisgarh
Morarji Desai Institute of Naturopathy & Yoga, Vadodara, Gujarat.
These are listed top based on various aspects and criteria.
Readers hope this article provided you the all required Information regarding Naturopathy Course Details. Stay Connected for more Updates. Share this article with your friends also.