MCSE Course Details: The Microsoft Certified Solutions Expert (MCSE) in one of the most popular certifications in the IT field. It is responsible for the overall IT environment and structural design in the organization. Details of MCSE Courses which includes qualification required for Microsoft Certified Solutions Expert Certification, List of MCSE Courses, Fee Structure, Salary info, Training Institutes, Classes etc from this page.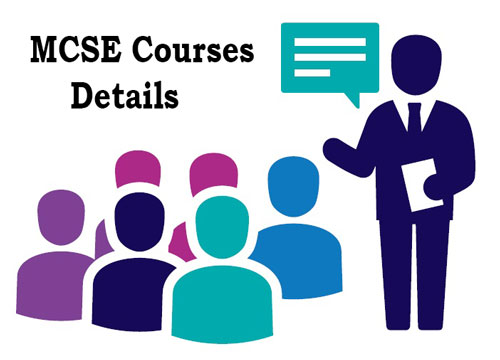 If you goal is to get MCSE certified to improve your career please look on the Current MCSE certification paths they are:
MCSE: Server Infrastructure
MSCE: Desktop Infrastructure
MCSE: Private Cloud
MSCE: Enterprise Devices and App
MCSE: Data Platform
MCSE: Business Intelligence
MCSE: Messaging
MCSE: Communication
MCSE: SharePoint
For those that are new to the IT industry or are looking change or start a new career you will be interested to find out the best course to start with.
About MCSE Courses Certification
MCSE Certification is the most famous Microsoft Certification offered by Microsoft. Network Bulls offer MCSE course in a customized way. A MCSE Engineer is capable of designing, implementing and administering infrastructures based on Microsoft Windows servers. Network Bulls is the one of the Best MCSE Certification Training Institutes for Microsoft courses like MCSE 2003 Server, MCITP 2008 Server, Exchange Server 2007 and 2010, Microsoft Server Admin and Enterprise Admin. Network Bulls offers best combination of MCSE courses with MCITP and CCNA.
MCSE Course Details of Fee and Duration
Exam Fee / MCSE Certification Cost: Fee may vary based on the specific geography and in some instances, taxes may apply.
Duration: The study times will vary depending on each candidate, their existing knowledge and how much time is spent studying. If you study the quicker you will complete the course. The average duration for completing MCSE Course is 6 to 8 months.
                          MCSE 2012 Server Infrastructure Training Fee & Duration
Track
Regular Track
Weekend (Saturday & Sunday)
Duration
2 Months
3 Months
Hours
2 Hrs a Day
3-4 hrs a Day
Training fee
Rs 18,000/-
18,000/-
                        MCSE 2012 + Exchange Server 2010 Training Fee & Duration
Track
Regular Track
Weekend (Sat-Sun)
Duration
3 Months
4.5 Months
Hours
2 Hrs a Day
3 to 4 Hrs a Day
Training Fee
Rs 23,000/-
Rs 23,000/-
Following are the MCSE job titles:
Network Consultant
Support Engineer
Information Systems Administrator
Network Operations Analyst
Technical Consultant
What is the eligibility to write MCSE exam?
For your convenience here we are providing the Eligibility for MCSE Exam. Basically there is no such eligibility criterion for the MCSE certification exams but according to Microsoft advice, the students to have at least one or two years of experience of work in the technologies related to such certification tests
Qualification for MCSE Certification
Individuals interested in earning the MCSE Certification have 8 options: server infrastructure, desktop infrastructure, private cloud, data platform, business intelligence, messaging, communication, and SharePoint.
Each option consists of 5 computerized exams relating to the certification technology such as
Microsoft Technology Associate (MTA)
Microsoft Certified Solutions Associate (MCSA)
Microsoft Certified Technology Specialist (MCTS)
MC Certified IT Professional (MCITP)
MC Solutions Developer (MCSD)
MCSE Course Syllabus
The candidates should seriously focus on the preparation of the examination. Passing this exam is not an easy task because students have to prepare all different factors of related technologies.
A good preparation is a basic need of the Microsoft Certified Solutions Expert Certification examinations. So, we advise to all candidates please collect the MCSE Course Syllabus and start your preparation according to it.
Please refer: https://drive.google.com/file/d/0By5qPgbHdghOQm1TRm5MSzRSeXc/view?usp=sharing
Learn to:
After completing, participants should be able to:
Deploy server virtualization by using System Center 2012 r2 Virtual Machine Manager.
Implement an AD DS physically.
Implement high availability feature by using failover clustering in Windows Server 2012 r2.
Implement AD FS and AD RMS server.
Appear in Microsoft Online certification Exam: 70-413, 70-714.
MCSE Salary Details
Following are salaries from this field offered by Microsoft:
| | |
| --- | --- |
| Microsoft Certification | Salary |
| MCSE: Microsoft Certified Systems Engineer (prev. gen) | $94,231 |
| MCSA: Microsoft Certified Systems Administrator (prev. gen) | $87,667 |
| MCSA: Windows 7 | $73,009 |
| MCSA: Windows Server 2008 | $83,112 |
| MCSA: Windows Server 2012 | $79,201 |
| MCSE: Server Infrastructure | $93,267 |
| MCSE: Desktop Infrastructure | $85,368 |
| MCSA: Windows 8 | $79,235 |
| MCSA: SQL Server 2012 | $91,852 |
| MCSE: Private Cloud | $94,919 |
| MCSE: Business Intelligence | $101,022 |