M.Phil which means Master of Philosophy. M.Phil Course is a 2year Ph.D. course. From this article, you will get all the details about M.Phil course, Eligibility, Duration, Course Fee, Specialisations, Job areas and Salary etc. Let us see in detail about the M.Phil. Course as follows.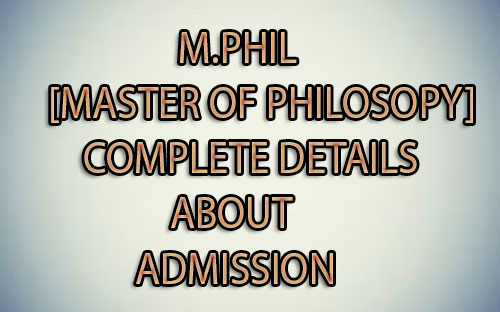 M.Phil which means Master of Philosophy
Quick Review of M.Phil Course
| | |
| --- | --- |
| Course Name | M.Phil. |
| Full Form | Master of Philosophy |
| Course Type | Post Graduate Academic Research |
| Duration | 1-2 Years |
| Admission process | Merit-based (Based on the PG percentage)/ Entrance Test based |
| Area Concerned | Public Administration |
| Eligibility | Graduate with 55% in any college or a university |
| Structure of Course | Semester |
| Job Profiles | Economist, Assistant professor, Author, Civil servant, Journalist |
| Top recruiting areas | Journalism, Economics, Civil Services, auditing, technical expertise and language domain. |
| Course Fee | INR 5,000 to INR 1, 00,000 |
| Average starting salary | INR 18,000 to INR 20,000 |
M.Phil Course Eligibility
To pursue this M.Phil course one should have the master's degree in science, arts or engineering with a minimum of 55%.
M.Phil Course Duration
This M.Phil course is a 2year long post-graduation course.
M.Phil Course Fee
The total fee for this M.Phil course is 40,000/- per annum.
Examination Pattern
Part-1 Examination
(1) Course Work (4 Papers of 2 hours each, carrying 50 marks) – 200 Marks
Part-2(A) Examinations
(2) Internal Assessment (Based on review essays and at least 2 seminars) –
100 marks.
Part-2(B) Examinations
(1) Dissertation/ project Work – 150 Marks
(2) Final Comprehensive Viva-Voce- 50 Marks
Total- 500 Marks
For gaining eligibility a candidate must obtain 50% of marks in part-1
Part-1 eligible candidates only go for part-2
In part-2 also one should secure 50% of marks
The candidates who are cleared their part-1 and part-2 subjects are eligible to hold the degree.
Part-1 studying students have to complete their academic project on regular basis then only they will go for part-2.
Those candidates who are eligible for part-2 only will go for viva-voce examination and other comprehensive examinations.
Eligible Candidates will go through all examinations by paying the examination fee in the university or college time to time.
Students who are qualified in the part-1 examination have to submit dissertation prior the final comprehensive viva-voce else there will be a cancellation of examination.
This examination and viva-voce conducted by an external examiner who comes from outside colleges or universities.
The project was done by the students also checked and examined by the P.G. Board of Studies on the recommendation of M.Phil. Committee.
Before the submission of the dissertation, the respective students have to give a presentation about the project known as pre-M.Phil. Presentation to all the faculty members and research students for gaining feedback and comments.
M.Phil. Specializations
Psychology
Biotechnology
Hindi
Chinese and Japanese Studies
BioScience
Guru Nanak Sikh Studies
Bio-Chemistry
Gujarat
BioInformatics
Prakrit
Psychiatric Social work
Zoology
Marine Bio-Technology
Physics
Statistics
Computer Science
Information Technology
English
History
List of Colleges Offering M.Phil Course
Chaudhary Charan Singh University
A.N.J.A College, Virudhu Nagar, Tamil Nadu
M.N.Institute of Applied Science, Bikaner, Rajasthan
Nalsar University of Law, R.R.District, Hyderabad
Gulbarga University, Jnana Ganga, Gulbarga, Karnataka
Aarupudi Veedu Institute of Technology, Kanchipuram, Tamilnadu
Hemachandracharya North Gujarat University, Patan, Gujarat
National Law School of India University, Nagarbhavi, Bangalore, Karnataka
University of Mumbai, Mumbai
University of Delhi, Delhi
University of Calcutta, Calcutta
Bharathidasan University, Thiruchirapalli
Amity University
Christ University
JNU
Lovely Professional University
Jamia Mili Islamia
Panjab University
MDU
Jain University
 M.Phil Job Areas
News Papers
Magazines
Publishing Houses
Law Firms
Consultancy
Human Services Industry
Research and Development Institutes
Educational Institutes
M.Phil Job Types
Editor
Scientist
Consultant
Social Service Worker
Speaker
Teacher and Lecturer
Human Service Worker
Assistant Professor
Salary Offered
For a fresher who completed post-graduation degree in this M.Phil Course can get 20,000 Rs to 30,000 Rs.