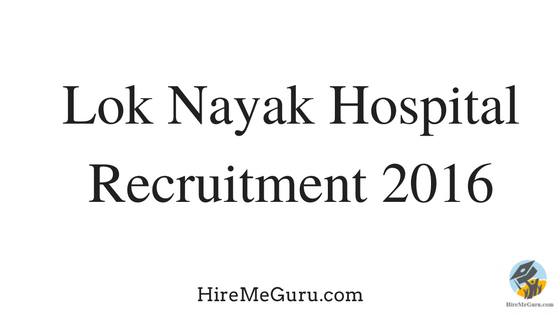 Lok Nayak Hospital Recruitment 2016 for LNH Senior Resident 550 Vacancies. Office of the Medical Superintendent, Government of Delhi, Lok Nayak Hospital, New Delhi has published a notification for the recruitment of Senior Resident on regular basis to fill up 550 vacancies.  Interested eligible candidates are requested to submit their application form offline on or before 3rd October 2016 by 4.00p.m.candidates may apply check the details in the official website lnh.delhigovt.nic.in.
The notification is regarding the placement of  different categories of jobs in departments namely Anatomy, Anaesthesia, Bio-chemistry, blood bank, burns and plastic surgery, community medicine, cardiology, ENT, forensic medicine, gastroenrology, micro biology, neurosurgeon, neurology, orthopaedics and many more which will be explained in detail later on. Other details regarding educational qualification, selection procedure and application mode and the different categories of posts are explained below.
LNH Senior Resident Notification 2016
New Delhi, the capital of India which also called as the heart of India.th foundation stone of the city was laid by George V. Emperor during Delhi Durbar of 1911. It was designed by British architects. Formerly Calcutta was termed to be the country capital later on the new capital was announced to be New Delhi which was inaugurated on 13th February 1931 by Viceroy and Governor General of India Lord Irwin.
The entire major functions where carried right from here. Lok Nayak Jai Prakash Narayan Hospital was one amongst them. It is centrally locate in the New Delhi city. Lord Irwin Laid down the foundation stone of this hospital on 10th January 1930. The vision of this hospital is to provide comprehensive health care services for the good health and well-being of all the patients.it is also recognised for being a prestigious college in teaching the students regarding the different health departmental activities.
Delhi Lok Nayak Hospital Vacancies
Candidate's upper age limit should be 40 years as on the last date of submission of the application. It is conditionally stated that candidate should possess MBBS with post-graduation degree/DNB/ Diploma or post-Doctoral degree in concerned speciality from a recognised university and must have a DMC registration from that concerned specialist/super specialist.
Applicant needs to pay Rs500 if HE/SHE belongs to General Category in the form of Demand Draft preferably from SBI (State Bank of India) in favour of M.D Lok Nayak Hospitals, New Delhi which is completely non-refundable and there is a fee exemption for all the SC/ST candidates.
Eligible candidates may send their application in prescribed format with demand draft attested copies of all the required testimonials to the office of the Additional Medical Superintendent (Admin), Room No. 005, Administrative Block, Lok Nayak Hospital, New Delhi -02 on or before 03rd October 2016 by 4.00p.m.
Name of the Organization:  Lok Nayak Hospitals
Official Site: delhigovt.nic.in 
Job Role: senior resident on regular basis
Vacancies: 554
Job Location:  New Delhi
Post wise Vacancies: Name of the departments
1. A&E: 11 Posts
2. Anatomy: 08 Posts
3 Anaesthesia: 122 Posts
4 Bio-Chemistry: 10 Posts
5 BloodBank: 01 Post
6 Burns & Plastic Surgery: 17 Posts
7 Community Medicine: 03 Posts
8 Cardiology: 43 Posts
9 CTVS: 04 Posts
10 General Medicine including Endocrinology & Dialysis in GTBH: 37 Posts
11 ENT: 07 Posts
12 Forensic Medicine: 03 Posts
13 Gastroenterology: 08 Posts
14 General Surgery & Surgery DEM Block in GTBH: 41 Posts
15 Microbiology: 11 Posts
16 Neurosurgery: 26 Posts
17 Neurology: 11 Posts
18 Obst. & Gynae: 42 Posts
19 Orthopedics: 24 Posts
20 Ophthalmology: 11 Posts
21 Pathology: 19 Posts
22 Pediatrics: 39 Posts
23 Pharmacology: 03 Posts
24 Psychiatry: 08 Posts
25. Physiology: 03 Posts
26 Radiology: 34 Posts
27 Radiotherapy: 02 Posts
28 Skin & VD: 06 Post
Eligibility Criteria:
Education Qualification: candidate should posses MBBS with post-graduation degree/DNB/ Diploma or post-Doctoral degree in concerned speciality from a recognised university
Age Limit: upper age limit of 42 years as on the last date of submission of application date
Selection Process: direct interview
Application Fee: Rs 500 for General category students and No Fee for SC/ST/OBC candidates
How to Apply
Enter the official website delhigovt.nic.in
Download the application form
Fill in all the required details
Pay the application fee (for General Category) in the form Of DD explained above
Attach all the necessary documents, application form and DD form to the address stated below
Note: SC/ST/OBC candidates are required to follow the remaining process except the payment of Fee
Save the copies of application form and fee receipt for further reference.
 Address:
The office of the Additional Medical Superintendent (Admin),

Room No. 005,

Administrative Block,

Lok Nayak Hospital, New Delhi -02
Important Dates:
Last date of application submission is by 3rd October 2016
Notification and application form:
https://drive.google.com/file/d/0B_AUBUCZeWS4c2dvM1l4clI5b2s/view?usp=sharing