Are you interested in doing management course and you are looking forward to Top MBA Colleges in India? Here you have your answers to your questions. In this posting, you can find top colleges list according to some factors like ranking, Perception, Alumni reviews, Academics, and placements etc.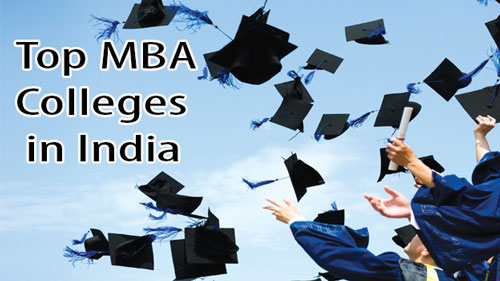 Top MBA Colleges in India
Let us see the factors as follows:
Ranking
Perception
Alumni Reviews
Academics
Placements
Ranking is in which place a particular college, university or business school hold.
Perception is nothing but the public opinion about a specific college.
Alumni Reviews are for the people who want to join in these colleges for getting an idea.
Academics these academics are for student purpose before joining in college they will come to know about academics and curriculum.
Placements the main reason for joining in top reputed colleges is to get a good job in top MNC's. For that here is the mentioning about placements with ranking.
 Top MBA Colleges in India
Ranking

 

College/University

 

Perception (out of 10)

 

Alumni reviews (out of 10)

 

Academics(out of 10)

 

 

Placements (out of 10)
1
Xavier School of Management – XLRI, Jamshedpur

9.9

The best private B-school in the country

 

9.9

Student feedback is overwhelmingly positive

 

9.9

A well-balanced curriculum which has been checked many times for excellence.

 

9.9

Placements are excellent across the board

 

2

Management Development Institute, Gurgoan

 

9.9

The best MBA colleges in India

 

9.9

Very Positive response

9.8

Offers a course well corroborated with industry demands. The curriculum is flexible as a course offered is PGDM

 

9.9

Some of the best placement packages for management students are offered at MDI

 

3)

Institute of Management Technology, Ghaziabad

 

9.9

One of the best private B-schools in the country

 

9.9

Hugely Positive

9.8

Integration of industrial inputs with management essentials

 

9.8

Recruitment has remained top-draw since its inception a few decades back

 

4)
Indian School of Business, Hyderabad

9.8

The best MBA colleges in the country

9.9

Very favorable feedback

9.8

Offers a one of a kind academic structure catered to students looking for industry oriented

 

9.8

Placement cell is very active as companies from all around the world visit the campus

5)
SP Jain Institute of Management and Research, Mumbai
9.8

Best college

9.8

Excellence feedback

9.8

Some of the best faculties in India teaching some of the brightest talents in India makes academic programme one of the best in the country

 

9.8

Placements are excellent  with the best IIMs

 

6)

Institute of Rural Management

 

9.8

Niche-based B-school specializing in rural management

9.8

Largely Positive

9.8

The focus is essentially on the working of the mechanics of rural areas and how modern management can be ingratiated into such areas

9.7

Placements are specific to the branch of study

 

7)
Narsee Monjee Institute of Management Studies, Mumbai

 

9.7

Top MBA colleges in the country.

9.8

 

The majority is positive.

9.8

Key emphasis on ingratiating students with corporate life and making them aware of the necessary standards

 

9.7

Placements are excellent according to branches.

8)

Symbiosis Centre for Management and Human Resource Development, Pune

 

9.7

Another renowned name in management education in India. Part of Symbiosis University campus

 

9.7

Largely popular amongst alumni and current students

 

9.8

Academically well-structured to deal and modify curriculum based upon market dynamics

 

9.7

Placement record has been very good over the years

 

9)

Great Lakes Institutes of Management, Chennai

 

9.2

One of the top B-Schools in India

9.1

Got all Positive reviews

9.1

Encourages new techniques of learning and ingratiates industry advice into its fold

9.1

Placements are excellent with many companies visiting campus across the board

10)
Indian School of Business, Mohali

 

9.1

It gets its excellence by main campus Hyderabad

 

9.1

Favorable feedback

9.1

Sets the tone in academics with a key focus on research output and practical learning

9.1

Very good placements according to its brand

11)
International Management Institute, Delhi

 

9.1

Renowned for its all-around management programme. Amongst the best MBA colleges in Delhi

 

9.1

Highlight reviews about quality in academics and infrastructure

9.0

Seamless integration channels with leading industrial companies

 

9.1

Placement record highlights the connections of the institution with top-rated companies

12)
Ta Pai Management Institute, Manipal
9.0

Best B-School Consideration

9.1

Positive response

9.0

A balanced approach with focus equated between practical learning and theoretical concepts.

9.1

Placements are very good and diverse owing to the B-school's impeccable brand name

 

13)

Lal Bahadur Shastri Institute of Management, Delhi

 

9.0

one of the best colleges for MBA in North India

9.0

Favorable feedback

9.0

Academic programme is strong with highly qualified teachers and critical industry integration

9.1

Recruitments are extremely consistent with an in-house well-connected placement cell

14)
Institute for Financial Management and Research, Sri City
9.0

Very old in South India

 

9.0

Reviews from ex-students highlight are highly praiseworthy of the college

 

9.0

Academic structure is well balanced industry-oriented training and traditional management techniques

9.0

Placement reports of the college has been very consistent over the years

 

15)
Loyola Institute of Business Administration, Chennai

8.9

Considered amongst the best B-schools in Tamil Nadu and India in general

9.0

Favorable feedback

9.0

The rigorous academic structure is eased by the relaxed approach of faculties

9.0

With the college name,

Placements are extremely consistent in keeping
 Top MBA Colleges in India have listed above in this post. Candidates who want to join in one of the Top MBA Colleges in India can refer this post and decide a college.