CMA Final Course Details are available here. Students are confused with terms like CMA,ICMAI,CWA,ICWA and ICWAI. So to clear all the questions and doubts we are going to provide the perfect view of CMA Final Course Details in this article.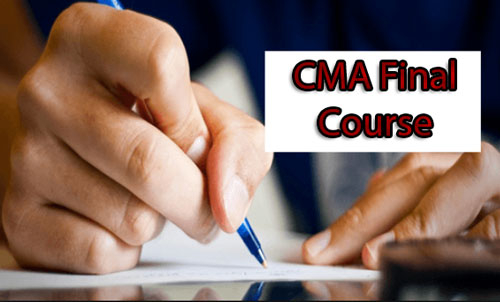 ICAWI(Institute of Cost & Works Accountants of India(ICWAI) has changed its name to ICMAI(Institute of Cost and Management Accountants of India)CWA course has also been renamed as CMA but there is no between ICWA,CWA,CMA .CMA stands for Cost Management Accountant.
.
CMA Course is a gateway to become a Cost Management Accountant.
CMA Course can be done in three levels.
Foundation Level
Intermediate Level
Final Level
In this article we are going to discuss CMA Final Course . Continue reading the below article for more information.
CMA Final Course – Eligibility Criteria
Should have Passed Senior Secondary School Examination(10+2) and Intermediate Course of the Institute of Cost Accountants of India/Graduation in any discipline other than Fine Arts.
CMA Final  Course – Admission
Students who are interested in doing CMA Final Course should apply for the course before 31st Jan of that particular year and the exam will be conducted in the month of June
Students who are willing to write the exam in the month of December should apply for the course before 31st July of that particular year.
CMA Final Admission can done both Online and Offline.
Fee Structure
| | | |
| --- | --- | --- |
| Particulars | Amount | Remarks |
| Final Course | Rs.17,000/- | Payable on or before 31st January for June term and 31st July for December term of examinations. |
Oral Coaching Fee      – Rs.17,-000/-
Postal Coaching Fee   – Rs.17,000/-
Documents Required for Admission in CMA 
Attested Copy of Matriculation Certificate
Attested Copy of 10+2 Certificate or Marks Statement
Attested Copy of the Degree
Intermediate Exam Marksheet(Both Groups)
 Subjects in CMA 
| | |
| --- | --- |
| Paper | Subjects |
| Paper 13 | Corporate Laws and Compliance(CLC) |
| Paper 14 | Strategic Financial Management |
| Paper 15 | Strategic Cost Management – Decision Making (SCM) |
| Paper 16 | Direct Tax Laws and International Taxation (DT Laws) |
| Paper 17 | Corporate Financial Reporting(CFR) |
| Paper 18 | Indirect Tax Laws and Practice (IDT Laws) |
| Paper 19 | Cost and Management Audit (CMA) |
| Paper 20 | Strategic Performance Management and Business Valuation(SPM & BV) |
 CMA Final Exam
CMA Final Exam will be held twice in the month of June and December.
CMA Final Exam will be conducted in Offline ,Descriptive Mode Only.
Each paper is for 100 marks and the time duration is for 3 hours.
Application Forms for Final Examination can be filled up either through online or in offline mode.
Students can login to the website www.icmai.in and apply online through payment gateway by using Credit/Debit card or Net banking.
 Result Dates
CMA Final Exam Result is declared on 21st February for December exams and on 23rd August for June exams. The result dates are fixed for every term.
Keep Visiting the Official website for the results.