JNTUK R13 Syllabus Books Download PDF: Students who are studying in any of Jawaharlal Nehru Technological University, Kakinada affiliated colleges and looking for JNTUK Syllabus Books for R13 Regulation of B.Tech, B.Pharmacy and other courses you may follow our site for direct download links with free of cost. At present, JNTUK B.Tech Syllabus Books for All Branches available for free download. So, scroll down the page and get course wise and semester wise JNTUK R13 Syllabus Books in pdf format.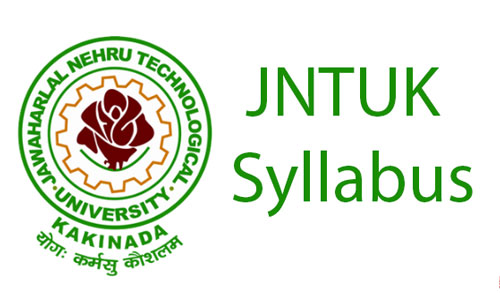 Branch Wise Syllabus Books
JNTUK R13 Syllabus pdf prepared for following branches (Aeronautical Engineering, Automobile Engineering, B.Pharmacy, BioTechnology, Chemical Engineering, Civil Engineering, CSE (Computer Science & Engineering), E.Com, ECE (Electronics & Communication Engineering), EEE (Electrical & Electronics Engineering), EIE, IT, Mechanical Engineering, Metallurgical Engineering, Mining Engineering, PCE, and PE).
How To Download JNTU Kakinada Syllabus Books
JNTU Kakinada newly uploaded the JNTUK R13 Syllabus pdf for 1st, 2nd, 3rd, 4th year B.Tech Students. For your ease we provide the detailed syllabus pdf books for all branches of 1-1, 1-2, 2-1, 2-2, 3-1, 3-2, 4-1, 4-2 R13 Regulations. So, please click the below uploaded links and get your Semester Syllabus pdf file and save it for preparation purpose.
JNTUK R13 Aeronautical Engineering Syllabus
1St Year 1st Semester
ENGLISH – I
MATHEMATICS-I
ENGINEERING CHEMISTRY
ENIGINEERING MECHANICS
COMPUTER PROGRAMMING
ENVIRONMENTAL STUDIES
ENGINEERING / APPLIED CHEMISTRY LABORATORY
ENGLISH – COMMUNICATION SKILLS LAB- I
C PROGRAMMING LAB
1St Year 2nd Semester
ENGLISH -II
MATHEMATICS – II
MATHEMATICS-III
ENGINEERING PHYSICS
BASIC ELECTRICAL AND ELECTRONICS ENGINEERING
ENGINEERING DRAWING
ENGLISH-COMMUNICATIONS SKILLS LAB-II
ENGINEERING / APPLIED PHYSICS LAB
ENGINEERING / APPLIED PHYSICS – VIRTUAL

LABS – ASSIGNMENTS
ENGINEERING WORKSHOP & IT WORKSHOP
JNTUK R13 Automobile Engineering Syllabus
1St Year 1st Semester
ENGLISH – I
MATHEMATICS-I
ENGINEERING CHEMISTRY
ENIGINEERING MECHANICS
COMPUTER PROGRAMMING
ENVIRONMENTAL STUDIES
ENGINEERING / APPLIED CHEMISTRY LABORATORY
ENGLISH – COMMUNICATION SKILLS LAB- I
C PROGRAMMING LAB
1St Year 2nd Semester
ENGLISH -II
MATHEMATICS – II
MATHEMATICS-III
ENGINEERING PHYSICS
BASIC ELECTRICAL AND ELECTRONICS ENGINEERING
ENGINEERING DRAWING
ENGLISH-COMMUNICATIONS SKILLS LAB-II
ENGINEERING / APPLIED PHYSICS LAB
ENGINEERING / APPLIED PHYSICS – VIRTUAL LABS – ASSIGNMENTS
ENGINEERING WORKSHOP & IT WORKSHOP
JNTUK R13 B.Pharmacy Syllabus
1St Year 1st Semester
ENGLISH
Remedial Mathematics – I
REMEDIAL BIOLOGY – I
HUMAN ANATOMY & PHYSIOLOGY – I
GENERAL & DISPENSING PHARMACY
PHARMACEUTICAL ORGANIC CHEMISTRY-I
ENGLISH COMMUNICATION SKILLS LAB
REMEDIAL BIOLOGY LAB
GENERAL & DISPENSING PHARMACY LAB
PHARMACEUTICAL ORGANIC CHEMISTRY – I LAB
1St Year 2nd Semester
HUMAN ANATOMY & PHYSIOLOGY – II
PHARMACEUTICAL INORGANIC CHEMISTRY
PHARMACEUTICAL ORGANIC CHEMISTRY-II
PHYSICAL PHARMACY – I
COMPUTER APPLICATIONS AND BIOSTATISTICS
HUMAN ANATOMY PHYSIOLOGY LAB
PHYSICAL PHARMACY – I LAB
COMPUTER APPLICATIONS LAB
JNTUK R13 Biotechnology Syllabus
1St Year 1st Semester
ENGLISH – I
MATHEMATICS – I
ENGINEERING CHEMISTRY
ENGINEERING MECHANICS
COMPUTER PROGRAMMING
ENVIRONMENTAL STUDIES
ENGINEERING /APPLIED CHEMISTRY LABORATORY
ENGLISH – COMMUNICATION SKILLS LAB -I
C PROGRAMMING LAB
1St Year 2nd Semester
ENGLISH –II
MATHEMATICS – II
FUNDAMENTALS OF BIOLOGY
ENGINEERING PHYSICS
PROCESS ENGINEERING PRINCIPLES
ENGINEERING DRAWING
ENGLISH – COMMUNICATION SKILLS LAB- II
ENGINEERING /APPLIED PHYSICS LAB
ENGINEERING PHYSICS VIRTUAL LABS – ASSIGNMENTS
ENGINEERING WORKSHOP & IT WORKSHOP
JNTUK R13 Chemical Engineering Syllabus
1St Year 1st Semester
ENGLISH-I
MATHEMATICS-I
ENGINEERING CHEMISTRY
ENIGINEERING MECHANICS
COMPUTER PROGRAMMING
ENVIRONMENTAL STUDIES
ENGINEERING /APPLIED CHEMISTRY LABORATORY
ENGLISH – COMMUNICATION SKILLS LAB- I
C PROGRAMMING LAB
1St Year 2nd Semester
ENGLISH-II
MATHEMATICS-II
MATHEMATICS-III
ENGINEERING PHYSICS
ELEMENTS OF MECHANICAL ENGINEERING
ENGINEERING DRAWING
ENGLISH – COMMUNICATION SKILLS LAB-II
ENGINEERING/APPLIED PHYSICS LAB
ENGINEERING /APPLIED PHYSICS- VIRTUAL LAB-ASSIGNMNETS
ENGINEERING WORKSHOP & IT WORKSHOP
JNTUK R13 CIVIL Engineering Syllabus
1St Year 1st Semester
ENGLISH – I
MATHEMATICS-I
ENGINEERING CHEMISTRY
ENGINEERING  MECHANICS
COMPUTER PROGRAMMING
ENVIRONMENTAL STUDIES
ENGINEERING  / APPLIED CHEMISTRY LABORATORY
ENGLISH – COMMUNICATION SKILLS LAB -I
C PROGRAMMING LAB
1St Year 2nd Semester
ENGLISH  -II
MATHEMATICS-II
MATHEMATICS – III
ENGINEERING PHYSICS
ENGINEERING DRAWING
ENGLISH – COMMUNICATION SKILLS LAB – II
ENGINEERING/APPLIED PHYSICS LAB
ENGINEERING /APPLIED/PHYSICS – VIRTUAL LABS – ASSIGNMENTS
ENGINEERING WORKSHOP & IT WORKSHOP
JNTUK R13 CSE Syllabus
1St Year 1st Semester
ENGLISH – I
MATHEMATICS-I
MATHEMATICS-II
APPLIED PHYSICS
COMPUTER PROGRAMMING
ENGINEERING DRAWING
ENGLISH – COMMUNICATION SKILLS LAB – I
APPLIED/ENGINEERING PHYSICS LAB
APPLIED/ENGINEERING PHYSICS – VIRTUAL LABS – ASSIGNMENTS
C PROGRAMMING LAB
1St Year 2nd Semester
ENGLISH -II
MATHEMATICS-III
APPLIED CHEMISTRY
OBJECT-ORIENTED PROGRAMMING THROUGH C++
ENVIRONMENTAL STUDIES
ENIGINEERING MECHANICS
APPLIED / ENGINEERING CHEMISTRY LABORATORY
ENGLISH – COMMUNICATION SKILLS LAB- II
OBJECT-ORIENTED PROGRAMMING LAB
JNTUK R13 E.Com Syllabus
1St Year 1st Semester
ENGLISH – I
MATHEMATICS-I
APPLIED PHYSICS
COMPUTER PROGRAMMING
ENGINEERING DRAWING
ENGLISH – COMMUNICATION SKILLS LAB- 1
APPLIED / ENGINEERING PHYSICS LAB
APPLIED / ENGINEERING PHYSICSVIRTUAL LABS – ASSIGNMENTS
ENGINEERING WORKSHOP & IT WORKSHOP
1St Year 2nd Semester
ENGLISH -II
MATHEMATICS-III
APPLIED CHEMISTRY
ELECTRICAL & MECHANICAL TECHNOLOGY
ENVIRONMENTAL STUDIES
DATA STRUCTURES
APPLIED/ENGINEERING CHEMISTRY LABORATORY
ENGLISH – COMMUNICATION SKILLS LAB – 2
COMPUTER PROGRAMMING LAB
JNTUK R13 ECE Syllabus
1St Year 1st Semester
ENGLISH – I
MATHEMATICS-I
MATHEMATICS-II
APPLIED PHYSICS
COMPUTER PROGRAMMING
ENGINEERING DRAWING
ENGLISH – COMMUNICATION SKILLS LAB- 1
APPLIED / ENGINEERING PHYSICS LAB
APPLIED / ENGINEERING PHYSICS VIRTUAL LABS – ASSIGNMENTS
ENGINEERING WORKSHOP & IT WORKSHOP
1St Year 2nd Semester
ENGLISH  -II
MATHEMATICS-III
APPLIED CHEMISTRY
ELECTRICAL  & MECHANICAL TECHNOLOGY
ENVIRONMENTAL STUDIES
DATA STRUCTURES
APPLIED/ENGINEERING CHEMISTRY LABORATORY
ENGLISH – COMMUNICATION SKILLS LAB – 2
COMPUTER PROGRAMMING LAB
JNTUK R13 EEE Syllabus
1St Year 1st Semester
ENGLISH – I
MATHEMATICS-I
APPLIED CHEMISTRY
ENIGINEERING MECHANICS
COMPUTER PROGRAMMING
ENVIRONMENTAL STUDIES
APPLIED/ENGINEERING CHEMISTRY LABORATORY
ENGLISH – COMMUNICATION SKILLS LAB- I
COMPUTER PROGRAMMING LAB
1St Year 2nd Semester
ENGLISH -II
MATHEMATICS-II
MATHEMATICS-III
APPLIED PHYSICS
ELECTRICAL CIRCUIT ANALYSIS – I
ENGINEERING DRAWING
ENGLISH LANGUAGE COMMUNICATION SKILLS LAB- II
APPLIED/ENGINEERING PHYSICS LAB
APPLIED/ENGINEERING PHYSICS – VIRTUAL LABS – ASSIGNMENTS
ENGINEERING WORKSHOP & IT WORKSHOP
JNTUK R13 EIE Syllabus
1St Year 1st Semester
ENGLISH – I
MATHEMATICS-I
MATHEMATICS-II
APPLIED PHYSICS
COMPUTER PROGRAMMING
ENGINEERING DRAWING
ENGLISH – COMMUNICATION SKILLS LAB- 1
APPLIED / ENGINEERING PHYSICS LAB
APPLIED / ENGINEERING PHYSICS VIRTUAL LABS – ASSIGNMENTS
ENGINEERING WORKSHOP & IT WORKSHOP
1St Year 2nd Semester
ENGLISH -II
MATHEMATICS-III
APPLIED CHEMISTRY
ELECTRICAL & MECHANICAL TECHNOLOGY
ENVIRONMENTAL STUDIES
DATA STRUCTURES
APPLIED/ENGINEERING CHEMISTRY LABORATORY
ENGLISH – COMMUNICATION SKILLS LAB – 2
COMPUTER PROGRAMMING LAB
JNTUK R13 IT Syllabus
1St Year 1st Semester
ENGLISH – I
MATHEMATICS-I
MATHEMATICS-II
APPLIED PHYSICS
COMPUTER PROGRAMMING
ENGINEERING DRAWING
ENGLISH – COMMUNICATION SKILLS LAB – I
APPLIED/ENGINEERING PHYSICS LAB
APPLIED/ENGINEERING PHYSICS – VIRTUAL LABS – ASSIGNMENTS
C PROGRAMMING LAB
1St Year 2nd Semester
ENGLISH -II
MATHEMATICS-III
APPLIED CHEMISTRY
OBJECT-ORIENTED PROGRAMMING THROUGH C++
ENVIRONMENTAL STUDIES
ENIGINEERING MECHANICS
APPLIED / ENGINEERING CHEMISTRY LABORATORY
ENGLISH – COMMUNICATION SKILLS LAB- II
JNTUK R13 Mechanical Syllabus
1St Year 1st Semester
ENGLISH – I
MATHEMATICS-I
ENGINEERING CHEMISTRY
ENIGINEERING MECHANICS
COMPUTER PROGRAMMING
ENVIRONMENTAL STUDIES
ENGINEERING / APPLIED CHEMISTRY LABORATORY
ENGLISH – COMMUNICATION SKILLS LAB- I
C PROGRAMMING LAB
1St Year 2nd Semester
ENGLISH -II
MATHEMATICS – II
MATHEMATICS-III
ENGINEERING PHYSICS
BASIC ELECTRICAL AND ELECTRONICS ENGINEERING
ENGINEERING DRAWING
ENGLISH-COMMUNICATIONS SKILLS LAB-II
ENGINEERING /  APPLIED PHYSICS LAB
ENGINEERING / APPLIED PHYSICS – VIRTUAL LABS – ASSIGNMENTS
ENGINEERING WORKSHOP & IT WORKSHOP
JNTUK R13 Metallurgical Engineering Syllabus
1St Year 1st Semester
ENGLISH – I
MATHEMATICS-I
ENGINEERING CHEMISTRY
ENIGINEERING MECHANICS
COMPUTER PROGRAMMING
ENVIRONMENTAL STUDIES
ENGINEERING CHEMISTRY LABORATORY
ENGLISH – COMMUNICATION SKILLS LAB-I
C PROGRAMMING LAB
1St Year 2nd Semester
ENGLISH -II
MATHEMATICS-II
MATHEMATICS-III
ENGINEERING PHYSICS
BASIC ELECTRICAL AND ELECTRONICS ENGINEERING
ENGINEERING DRAWING
ENGLISH – COMMUNICATION SKILLS LAB- II
ENGINEERING / APPLIED PHYSICS LAB
ENGINEERING / APPLIED PHYSICS – VIRTUAL LABS – ASSIGNMENTS
ENGINEERING WORKSHOP & IT WORKSHOP
JNTUK R13 Mining Engineering Syllabus
1St Year 1st Semester
ENGLISH – I
MATHEMATICS-I
ENGINEERING CHEMISTRY
ENIGINEERING MECHANICS
COMPUTER PROGRAMMING
ENVIRONMENTAL STUDIES
ENGINEERING / APPLIED CHEMISTRY LABORATORY
ENGLISH – COMMUNICATION SKILLS LAB- I
C PROGRAMMING LAB
1St Year 2nd Semester
ENGLISH -II
MATHEMATICS – II
MATHEMATICS-III
ENGINEERING PHYSICS
BASIC ELECTRICAL AND ELECTRONICS ENGINEERING
ENGINEERING DRAWING
ENGLISH-COMMUNICATIONS SKILLS LAB-II
ENGINEERING / APPLIED PHYSICS LAB
ENGINEERING / APPLIED PHYSICS – VIRTUAL LABS – ASSIGNMENTS
ENGINEERING WORKSHOP & IT WORKSHOP
JNTUK R13 PCE Syllabus
1St Year 1st Semester
ENGLISH-I
MATHEMATICS-I
ENGINEERING CHEMISTRY
ENIGINEERING MECHANICS
COMPUTER PROGRAMMING
ENVIRONMENTAL STUDIES
ENGINEERING /APPLIED CHEMISTRY LABORATORY
ENGLISH – COMMUNICATION SKILLS LAB- I
C PROGRAMMING LAB
1St Year 2nd Semester
ENGLISH-II
MATHEMATICS-II
MATHEMATICS-III
ENGINEERING PHYSICS
ELEMENTS OF MECHANICAL ENGINEERING
ENGINEERING DRAWING
ENGLISH – COMMUNICATION SKILLS LAB II
ENGINEERING/APPLIED PHYSICS LAB
ENGINEERING /APPLIED PHYSICS- VIRTUAL LAB-ASSIGNMNETS
ENGINEERING WORKSHOP & IT WORKSHOP
JNTUK R13 PE Syllabus
1St Year 1st Semester
ENGLISH-I
MATHEMATICS-I
ENGINEERING CHEMISTRY
ENIGINEERING MECHANICS
COMPUTER PROGRAMMING
ENVIRONMENTAL STUDIES
ENGINEERING / APPLIED CHEMISTRY LABORATORY
ENGLISH – COMMUNICATION SKILLS LAB- I
C PROGRAMMING LAB
1St Year 2nd Semester
ENGLISH-II
MATHEMATICS-II
MATHEMATICS-III
ENGINEERING PHYSICS
ELEMENTS OF MECHANICAL ENGINEERING
ENGINEERING DRAWING
ENGLISH – COMMUNICATION SKILLS LAB-II
ENGINEERING / APPLIED PHYSICS LAB
ENGINEERING /APPLIED PHYSICS- VIRTUAL LAB-ASSIGNMNETS
ENGINEERING WORKSHOP & IT WORKSHOP