About JAIIB Exam: JAIIB abbreviated as Junior Associate of Indian Institute of Banking. This is an associate examination held by the Indian Institute of Banking and Finance (IIBF). The JAIIB exam is available and only applicable to the ordinary members of the Institute. This exam will help the members of Indian Institute of Banking and Finance to get promotions quickly.
Those individuals who are Life members of the Institute and are employees of a banking establishment or financial institution or any other institution, which is an Institutional Member of the Institute are only appear in this exam. Any one employed in the banking and finance industry can submit an application to the Institute for membership.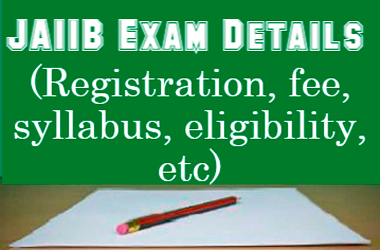 Aim JAIIB Exam
The JAIIB certification is for the employee (Banker) and is not associated to any particular bank, so even if you switch from one bank to another you will be eligible for either two or three increment based on your cadre. Your increment from JAIIB will also be applicable for each stage of promotion.
JAIIB Exam Details
Eligibility Criteria:
The candidates who are wishing to apply for JAIIB exam must qualify in the 10th examinations from a recognized board or its equivalent exam. The subordinate staff of standard banking or financial institutions in India who are members of Institute are eligible for the examination.
New members are advised of the examination for which they are eligible to appear while at the intimation of their respective membership numbers.
JAIIB Registration:
Anyone can apply for JAIIB exam online. First you are required to login with your personal membership number and password in the official website of Indian Institute of Banking and Finance. In the JAIIB online application you are required to fill details like mode, medium, center for the exam as also the place of work etc. Check the data and information carefully before submission of application form.
Examination Fee:
First attempt fee – Rs 2400/-
Second attempt fee – Rs 1,000/-
Third attempt fee – Rs 1,000/-
Fourth attempt fee – Rs 1,000/-
Mode of Examination:
The examination will be conducted in Online Mode and the exam selected centers as per the notification is given on the website in this regard. The duration of the exam will be of two hours.
Exam Paper Pattern:
The JAIIB Examination will be of fully objective type questions. Case study based questions may be asked. About 120 questions per subject will be asked, carrying 100 marks including questions based on case study/case lets. The Institute may, however, vary the number of questions to be asked for a subject. There will no negative marking for wrong answers.
Questions for the JAIIB Examination will be related to following:
Problem solving
Analytical/logical exposition
Knowledge testing
Case analysis
Conceptual grasp
Exam Dates:
JAIIB examination will be conducted normally twice a year in the months of May / June and November / December.
Exam Syllabus:
Principles & Practices of Banking
Concepts: Indian Financial System
Banking Regulation
Role and functions of capital markets, SEBI
Recent Development in the financial system
Banker customer relationship
Mutual funds and insurance companies
Risk Management
Customer protection
Payment and collection of Cheques and negotiable instruments
Opening accounts of various types of customers
Documentation
Payment systems and Electronic Banking
Data communication, Network & EFT systems
Accounting & Finance for Bankers:
Concepts: Calculation of Interest & Annuities
Capital Budgeting
Definition, scope and Accounting standards
Bank Reconciliation Statement
Capital and Revenue Expenditure
Preparation of Final Accounts
Maintenance of cash/ subsidiary books & Ledger
Final Accounts of Banking Companies
Ratio Analysis
Bills of Exchange
Banking operations and Accounting functions
Accounting in a computerized environment
Legal & Regulatory Aspects of Banking:
Concepts: Regulation of banking business
Financial Sector Legislative Reforms
Legal Framework of Regulation of Banks
Different types of borrowers
Bank Guarantees
Various types of securities
Recovery of debts due to Banks & Financial Institutions Act, 1993
The law of limitation
Indian Contract Act, 1872
Recent Legislative Chances in RBI Act
Public sector banks and co-operative banks
Passing Criteria:
Minimum marks for pass in every subject- 50 out of 100 marks
Candidate securing at least 45 marks in each subject with an aggregate of 50% marks in all subjects of JAIIB examination in a single attempt will also be declared as having passed JAIIB Examination.
Don't Miss: Top 5 Bank Exams in 2017 You Can't Miss! – Also Read Preparation Tips, Books, etc