About IT (Information Technology) Courses: The Indian economy is facing a huge demand for manpower resources that hold sound knowledge of basic IT skills in particular areas such as Finance and Accounting, Infrastructure Management, Web Content Development (WCD), Enterprise Resource Planning (ERP) and Business Intelligence (BI). Here you can read out complete IT Course Details like Best Courses in IT, Types, Eligibility, Fee, Jobs, Career Opportunities, Certification and IT Training, Courses List, etc.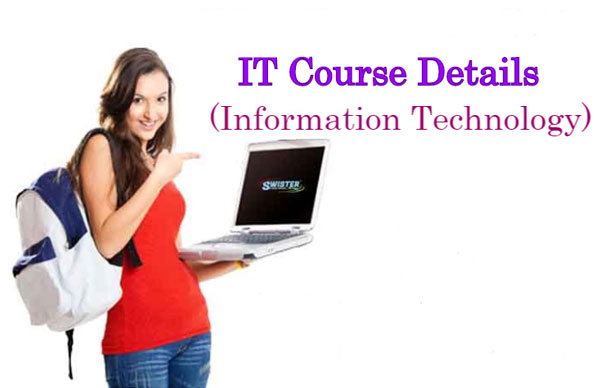 IT Course Details:
In the present scenario IT sector is very diverse and continues to grow. IT professionals often move between professional specializations as their interests and expertise grow and change. Information technology in India is an industry consisting of 2 major components i.e. IT services and Business Process Outsourcing (BPO). IT degree allows you to choose from a wide range of careers in Software Development, Business Analysis, Consulting, Data Modeling, Systems Integration and Network Management.
List of Information Technology Courses:
Full- time & part-time undergraduate, postgraduate and professional diploma courses in IT cover most of the most popular information technology areas, including:
Business Information Systems
Internet Marketing
Following are the list of free online IT Courses Details. See the full list of Information Technology courses and find the course that's right for you.
Undergraduate Courses
Course Study level
Animation
Computer Science
Game Design
Games and Interactive Environments
Health Information Management
Information Systems
Information Technology
Software Technologies
Business/Games and Interactive Environments
Business/Information Technology
Creative Industries/Information Technology
Games and Interactive Environments/Mathematics
Information Technology/Mathematics
Science/Games and Interactive Environments
Science/Information Technology
Engineering (Honours)/Information Technology
Information Technology/Law (Honours)
Computer and Software Systems (Honours)
Postgraduate Courses
Business Process Management
Business Process Management
Information Technology
Information Technology (graduate entry)
Law (Intellectual Property)
Information Technology
Information Technology
Science and Engineering
Basic Eligibility Criteria for IT Courses
Undergraduate:
For admission in a Bachelor's Degree, the candidate must have passed the Higher Secondary School Certificate/10+2 Examination with science subject such as biology, maths and chemistry.
For IITs, It is mandatory to qualify in the Joint Entrance Examinations (J.E.E).
Duration of Course: 4 years.
Postgraduate:
For admission in a master's degree the candidate must have passed the Bachelor's Degree in (B.E/B.Tech) or any other equivalent branches of engineering.
Duration of Course: 2 years.
Eligibility for Diploma Courses:
For admission in diploma course in electrical engineering, candidates should be 10+2 pass in science stream from recognised board examination.
IT Jobs
Information Technology offers a lot of job opportunities for the graduates/postgraduates and diploma holders. IT Service provider based companies concerned in hardware or software development, application and its testing employ IT professionals.
The common positions for IT holders
Programmers
PHP Developer
Oracle PL/SQL Developer
Quality Analyst
IT Specialists
Technology Engineer
Technical Consultant
Software Developer
Graphic Designer
Salary Details
Information Technology beginners can expect a salary between Rs. 15000/- to Rs. 20000/- per month. With experience and qualification candidates can earn above Rs 30000/- per month.