The government of Andhra Pradesh sponsored a Program named "Fee Reimbursement" system. It is also known as Post-matric Scholarship Scheme. We can say that this Fee Reimbursement Scheme is an E-pass scheme. And it is a revolution in Indian Education System. This scheme supports students belonging to economically backward categories in the state. Former Andhra Pradesh Chief Minister Y S Rajasekhar Reddy has introduced this scheme of reimbursing tuition fees of students belonging to weaker sections in 2008.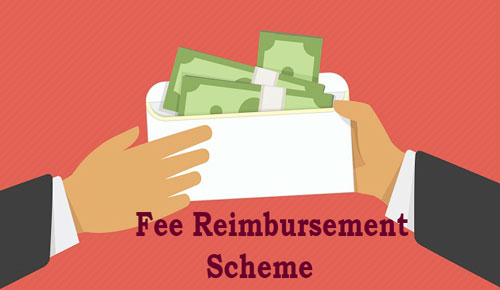 In the year of 2012-13, more than 600,000 students in various colleges were registered under the scheme, including around 150,000 students are from engineering colleges. From the year 2013 to 2014, the government has made Aadhaar number mandatory for students who are registered for the scholarship scheme. AP state government providing scholarships every year successfully with the help of higher education system.
Also see – Education Loan Details – Eligibility, Interest, Documents Required etc
In this article, you can find the details about Fee Reimbursement Scheme, Initialization of Fee Reimbursement Scheme, and Main Motto of this Fee Reimbursement Scheme, Epass Scholarships of Fee Reimbursement Scheme, Eligibility of students, and working of Fee Reimbursement scheme.
Initialization:
The Fee Reimbursement programme was started in 2008 during the tenure of Y. S. Rajasekhara Reddy The government spent Rs.2, 000 crores in 2008-09 and shot up to Rs.5, 000 crores in 2012-13.
Main Motto:
Engineering, Medicine, MBA, MCA, BEd etc. professional students covered in this scheme.
EPASS Scholarships:
EPASS which means Electronic Payment & Application System of Scholarships.
This scholarship scheme is applicable to the categories of SC, ST, BC, Physically Handicapped and to the students who are Economically Backward Class (EBC), and also to students of degree, matriculation, intermediate and as well as Engineering students and also to MCA, MBBS, MBA, PG course students through E-pass application.
Eligibility
Students from backward castes, EBC, and Disabled students whose parent's income is less than one lakh rupees are eligible.
The students come under the categories of SC and ST whose parental annual income is less than 2 lakh rupees are eligible.
In any campus, only one course is applicable for fee reimbursement scheme.
Students who can attain 75% of attendance are also eligible for this fee reimbursement scheme and any other scholarship schemes.
In this fee reimbursement scheme not second PG course in the same campus are considered.
How Fee Reimbursement Scheme Works:
To the present educational college or university, the respective stipend or fees to be paid will be directly transferred.
The students of pre-matric and post-matric can apply for it for fee reimbursement.
The government has made Aadhaar number mandatory for students who are eligible to receive the scholarship from 2013 to 2014.
AP chief minister N Chandrababu Naidu has decided to pay the tuition fee and scholarships to students who are native to his state but residing in Telangana state.
All the above information shows that initialization working benefits eligibility of students for gaining scholarships through fee reimbursement scheme. This is a very useful scheme for those who cannot afford money for their child studies and want to study to get into good job career and etc. You can find all the details regarding this Fee Reimbursement Scheme in this posting above just read it and get an idea.