CS Foundation Revision Test Papers will always help the students by giving an opportunity to revise the syllabus well before the actual examinations. Practice not only makes your perfect but also builds confidence for the exams. It helps you manage time and performance with great confidence for your Company Secretary Foundation examinations. Download links are provided at the end of this article.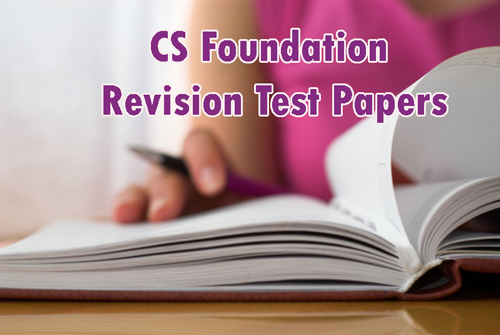 Here in this article we are providing you the Revision test papers for practicing before CS Foundation Course examinations.
About CS Foundation
CS Foundation is conducted by the Institute of Companies Secretaries of India. It is the first level of Company Secretaries exams. The candidate who is going to write the CS Foundation exams must complete his/her 12th class.
The CS Foundation examination subjects include Business Environment & Entrepreneurship, Ethics & Communication, Business Economics, Business Management and Fundamentals of Accounting & Auditing.
Also Download: CS Study Material
CS Foundation Online Test Features
Let's view some important features of CS Foundation Online Test.
The online tests are time based and include negative marking for wrong answers to enhance your performance for actual exam.
Number of unlimited Error Correction Tests offered for you based on mistakes you make in your practice test to help you achieve perfection in you preparations.
You will get different test paper for the same chapter sometimes.
You can design your own test based on chapters.
Unlimited Practice is available with this online test.
Preparation Analysis helps you compare your score and also find out areas where you need to work more on.
CS Foundation Revision Tips
Here some CS Foundation Revision Tips are mentioned for you to prepare well to pass the CS foundation exams in first attempt easily.
Positive Attitude:
The first basic factor that you have to build a positive attitude your self is for completing the CS Exams in first attempt.
Be confident:
Just be confident in yourself that you will pass CS exam in first attempt.
Have a Practical Goal:
Usually you will face a lot of difficulties while pursuing CS you must have a clear cut goal that you want to pass CS in first attempt.
Study with Planning:
Study with particular planning is the most important for preparing well to CS exams. You have to plan that what you need to read and learn everyday in a paper sheet.
Prepare thoroughly:
Concept clearing is the important element in CS to complete the exams. You need to prepare thoroughly for CS exams. ICSI study materials is the best material for the students those who are preparing for CS examinations.
Writing:
Practice writing by practicing at least 2 test papers of all the subjects before the exam.
Revision is must:
Revision is the key step in the preparation process. Keep revising whatever you read in whole week in one day. This will lead you to complete the CS exams in first attempt.
Revision Test Papers of CS Foundation
The online practice test for CS Foundation is providing by The Institute of Company Secretaries of India (ICSI) for the students. It is very important for the students those who are going to write CS Foundation exam. This online test free of cost.
There are two parts in this test. First part contains Business Environment and Entrepreneurship and Business Management, Ethics and Communication. The second part contains Business Economics and Fundamentals of Accounting and Auditing.
After giving every Mock Tests you must analyze the following elements.
The time taken to solve each section.
The maximum time to solve each and every question.
Which section was the hardest for you and the easiest one.
Average time spent on each question in a section.
You have to check your Accuracy level Versus Number of Attempts etc.
By analyzing these aspects you have to change your style of attempts in the next Mock tests in order to achieve the best time and accuracy.
Download the CS Foundation Revision Test Papers
Here you can download the CS Foundation revision test papers. For downloading the test papers you have to click on given below links.
1. Business Environment and Entrepreneurship
2.  Business Management, Ethics and Communication
4. Fundamentals of Accounting and Auditing
From the above links you can also get suggested answers for the CS Foundation revision test papers. So, Click on the above links and download these CS RTP and Suggested Answers in pdf format.