Cosmetology is a popular field of study of cosmetics and how they affect the skin and hair of those who use them. Cosmetology Courses can be the ideal choice for anyone who is considering working in the beauty business and industry. Get some essential information about Cosmetology Courses which includes Cosmetology degree, diploma and certificate courses in India with its syllabus, eligibility, fee, duration, top colleges, and universities, etc.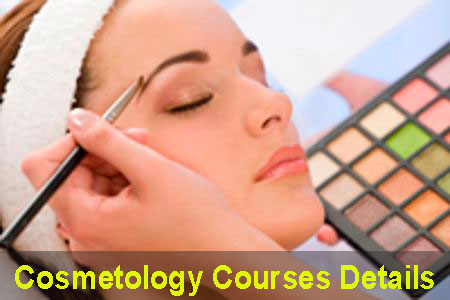 What is Cosmetology?
Cosmetology is the study and application of beauty treatment. It is the science which focuses on making people look good. In this Course many branches available which include beauty therapy and treatments for face, hair, body and overall health care.
Who is a Cosmetologist?
A cosmetologist is someone who is an expert in the care of hair and makeup as well as skincare and beauty products.
Cosmetology Course Details
The main objective of the Cosmetology Course is to develop the candidate in the practical skills, theoretical knowledge and professional attitude for success in the Cosmetology profession.
Many courses in this subject have prescribed sets of classes focused on beauty industry specializations like as nail or hair care. In addition to vocational subjects, students may also expect to take business courses in client management or accounting.
Eligibility Criteria to become a Cosmetologist:
Though there is no formal qualification mandatory to become a cosmetologist, although, many industries will require you to attend a cosmetology school and be at least 16 years of age
Cosmetology Courses Fee
The Course Fees ranges between 1,00,000 to 1, 80,000.  The course fees are different as per course.
Duration of Course
The Cosmetology Courses offered by the universities are full duration courses. Some universities or colleges also offer short duration job oriented courses.
The courses offered under cosmetology are given below:
Diploma Courses:
Diploma in Fashion Media Makeup
Diploma in Cosmetology
Diploma in Hair Dressing
Diploma in Makeup
Duration – 6 months to 1 year
Certificate Courses:
Certificate Course in Herbal Beauty and Therapy
Certificate Course in Massage Therapy
Certificate course in Beauty Culture
Duration – 3 to 6 Months
Master Courses:
PG Diploma in Cosmetology (PGDC)
Duration – 1 year
List of Classes
Basic Safety and Sanitation Course
Hair Care Course
Aesthetics and Hair Removal Course
Nail Care Course
Skin Science Course
Salon Management Course
Some of the institutes providing Cosmetology Courses
Institute of Cosmetic and Laser Surgery, S.V. Patel Road, Borivli, Mumbai.
Radio Bhuvan Career Supermarket, Colaba, Mumbai
VLCC Academy of Beauty Health and Management has Institutes in all major Indian Cities
Eves Beauty Parlour and Academy, NCR Delhi.
Anoo's International Beauty School, Somajiguda, Hyderabad.
Here are some types of cosmetology & beauty programs: Such as
Cosmetology (hair, skin, nails, makeup)
Barbering
Nail technician
Permanent makeup
Hair braiding
Makeup
Hair design
Certain beauty schools offer extra programs in related areas, like
Massage therapy
Laser training
Salon management
Teacher training
Fashion design
Best Career Options for a Cosmetologist
Following are the career in cosmetology can lead to a selection of professions in the beauty industry, which including:
Hairstylist
Nail technician
Salon or spa manager
Beautician
Wedding and Event Stylist
Makeup artist
Esthetician
Performing Cosmetology Services
Hair stylists will
Shampoo & Condition, Cut, trim, style, Color, Perm, Provide other hair services
Nail techs may perform
Manicures, Polish removal, Cuticle treatments, Polishing, Nail art
Makeup artist tasks include
Bridal, Seasonal, Color pallet selection, Eye and lip treatments, Male and senior makeup, Special effects, Theatrical, Film/TV.
Salary Details
Generally, the salary of cosmetologists will be based on their earning potential, city, level of experience, and some other factors. In India, a cosmetologist can earn Rs. 1.5 lakh to Rs. 2 Lakh per annum.