This is the article Beauty Course Details which provides the complete Information about the course, such as Various Types of Courses, Short Courses, and Concepts etc. Read the complete article to get all the details.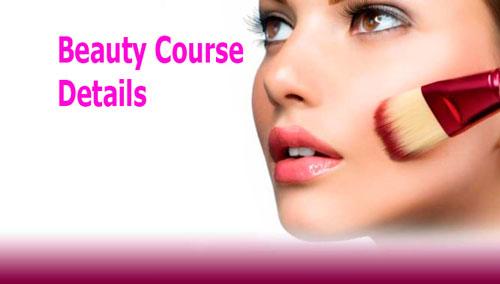 About Beauty Course:
Beauty is the characteristic of Animal or Human which provides perceptual experience of Satisfaction. Beauty is enhanced by makeup and many other acts. These are done by experts in molding Those are called as Beauticians.  To become a Beautician one need to complete the Beauty Course. The complete Details are provided here in this article. Go through it.
Courses List:  
There are many types of Beauty Courses, These are also called as beautician Courses.
The main of all the courses are:
Full Beauty Course 
One can do the complete course or can select any of the special subjects in The course.
The individual Subjects in the course are:
Nail Technology Course
Face & Body Waxing Course
Facial Course
Lash Tinting & Perming Course
Manicure & Pedicure Course
Relaxation Massage Course
Short Term Courses:
There will be some Short Courses which can be Completed very quick and Can also get a Certification for these courses after the completion. The Certificate is very valuable that with that one can get Jobs in any of the parlors and can also start their own parlor.
Various Short Term Courses are:
Certificate in Aroma Therapy
Certificate in Stone Therapy
Certificate in Eye lash and Eye Tinting
Certificate in Indian Head Massage
Certificate in Sports Massage
Certificate in Reflexology
Certificate in Lymphatic Drainage Massage
Certificate in Thermal Auricular Therapy
Diploma Courses:
Apart from the above stated Certification Courses and Short Courses, There will be some Academic Courses, They are Diploma Courses. The Eligibility For these Courses is Minimum 10th.
The Types of Diplomas available are:
Advanced Diploma in Cosmetology
Advanced Diploma in Aesthetics & Hair Designing
Diploma In Hair Designing
Diploma in Human Nutrition and Dietetics
Diploma In Spa Therapy
Diploma In Body Therapy
Short Term Beauty Courses
Diploma In Beauty Culture
Post Graduate Diploma in Cosmetology
Beauty Therapy Courses:
Creating the Beautiful skin, nails and Makeup comes under Beauty Therapy Courses. There are many Types of Beauty therapy Courses such as Diploma, Certification Course etc.
Here is the list of Courses
Certificate II in Retail Cosmetics
Certificate III in Beauty Services
Certificate III in Make-Up
Certificate III in Nail Technology
Certificate IV in Beauty Therapy
Diploma Program in Beauty Therapy (Specializing in Relaxation Massage)
Diploma Program in Beauty Therapy (Specializing in Spa Treatments)
Certificate III in Beauty Services
Diploma of Beauty Therapy
Courses Online:
Beauty courses are mostly selected by women and House wives. So they mainly prefer to do the Courses Online. There are many Sites that provide Online Courses. All the Courses and Specializations are available in Online.
Full Beauty Course (Contains all Six Subjects)
Syllabus Details: 
The Syllabus varies, but for sample here is the Syllabus of Diploma in Beautician
Make-Up

Bridal
Stage
Corrective (Day + Night)

Hair Dressing

Advance Hair Cutting (10)
Advance Hair Style (11)
Straightening
Hot Rolling
Perming
Hair Highlighting
Global Colouring
Crimping
Tong Rolls

Advance Mehendi
Skin Care

Galvanic Machine
High Frequency Machine

Facial
Skin Whitening (Aroma)
Skin Polish & Shiner With Brushing
Pimple Treatment
Top 10 Beauty Institutes in Hyderabad:
Most people search for the best Institutes in Hyderabad to get admission into Beauty Courses. Here is the list of Top 10 Institutes in Hyderabad for Beauty Courses
Mirrors Academy of Hair & Beauty, Madhapur
Jawed Habib Hair & Beauty Studio and Academy, Koti
Jubilee Institute of Fashion Design, K.P.H.B. Colony
Zamms, Abids
Mavel International Beauty School, West Marredpally
Techishan Solutions, Tarnaka
VLCC Institute of Beauty & Nutrition, Trimulgherry
VLCC Institute, Dilsukh Nagar
Jawed Habib Hair & Beauty Salon And Academy, Meerpet
Habeeb Studio & Institute, A.S. Rao Nagar
Also See
Stay Connected with us for more updates related to courses, exams, careers, events, etc.