Healthcare is a growing industry with continued opportunities. Certified Nursing Assistant is your opportunity for immediate employment, so start your career in the healthcare field as a Nursing Assistant. Certified Nursing Assistant Certification is a nationally recognized nursing specialty credential for registered nurses and the CNA certification is the basic level of certification.
Interested ones please check the qualifications for taking the Nursing assistant certification exam from below stated lines. Along with we provide CNA Certification Course Details like Cost, Requirements, Jobs, Salary Ranges, etc.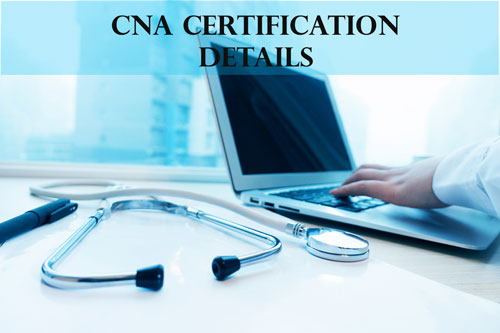 About CNA Certification
A Certified Nursing Assistant also called as CNA. It helps patients or clients with healthcare needs under the supervision of a Registered Nurse (or) a Licensed Practical Nurse. CNA program is designed to prepare students with the entry level skills required to function effectively as a nursing assistant in Nursing Homes, Hospitals, Physicians' Offices, Home Health, and Memory Care and Assisted Living Facilities, etc. Students learn about:
Long-term care
Basic nursing care
Taking vital signs
Controlling infections
Emergency procedures
Personal care skills
Communication skills, etc
CNA Courses Details
CNA Courses cover a variety of important subjects that will be on the certification exam. The CNA certification exam is typically administered by a third-party in various test centers throughout your state. While each exam may differ slightly, most states include a multiple-choice portion of the exam and a manual skills test. The topics are:
Activities of daily living
Aging process
Anatomy and physiology
Body mechanics
Client rights
Communication
Cultural and spiritual needs
Data collection
Ethics and legal issues
Infection control
Medical terminology
Mental health
Nutrition
Personal care
Range of motion
Role and responsibility of the CNA
Safety
Vital signs and testing
Certification Requirements
CNA Certification Requirements vary by state. Generally, students must apply to register as a nurse assistant with their state health department and pass a written competency examination. Then, after you pass the exam, you will need to know how to apply for your certificate in your state.
Some states will allow you to apply for certification endorsement. You will need to meet training and work experience requirements and hold an active CNA license in another state.
Duration of Course:
Generally, most certified nursing assistant programs take between 4 and 12 weeks.
CAN Training Program
Before starting your CAN Training program, you will need to provide various documents is as follows.
Documents You Need to Provide
Proof of age. The minimum age is usually 18 years old
High school diploma or GED equivalent
Physical examination
Proof of immunization
TB testing results
Background check (fingerprint method)
CPR and First Aid certification
Valid state driver's license or ID card
Cost of Program:
Tuition for CNA programs will vary based on whether you enroll in a diploma program or an associate's degree program.
If anyone interested in earning a 2-year associate's degree, tuition can double compared to a diploma program.
See: Demand Draft (DD) Details
Certified Nursing Assistant Job Prospects
Certified Nursing Assistant job prospects are expected to be strong in
Home Health Care Service and
Community-Based Care.
CNAs also work in hospitals and assisted living facilities. Here's is a jobs in different environments.
Home health care

Hospitals

Nursing and long-term care facilities
Also See GNM Course Details