CLAT Exam Details: The full form of CLAT is Common Law Admission Test. CLAT is one of the most important and well known entrance examinations. It is a national level entrance examination to provide admission in UG (Under Graduate) and PG (Post Graduate) Law courses.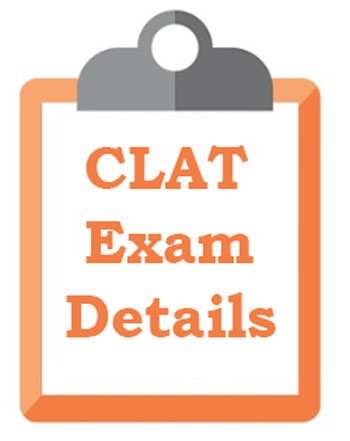 Here you can get CLAT Exam Date, Exam Pattern & syllabus. Also provide the CLAT Application Form of registration process for candidates those who are willing to apply for this Common Law Admission Test. For more details like CLAT Exam Eligibility, CLAT Exam Fee, etc please read the complete article.
About CLAT
Common Law Admission Test (CLAT) is a centralized test for admission to 17 prominent National Law Universities in India.
CLAT is a non-statutory body created for the convenience of the students seeking admission to the various Law Universities in the Country under Memorandum of Understandings. The CLAT Exam is conducted to provide a list of candidates on the basis of 'merit-cum-preference' to each University for admission to their UG & PG programs, as per the qualifications, reservation and other conditions of the participating Universities. For any further information regarding CLAT Admission Process, Counselling etc please visit the official website www.clat.ac.in
CLAT Exam Eligibility
For UG Programme:
Candidate must be 12th passed out in order to apply for this Common Law Admission Test.
They must have cleared 12th from a recognized university with minimum of 45% marks for general category and 40% of marks for SC/ST category.
For PG Programme:
Interested candidates must have done LLB (5 year Integrated LLB degree) from a recognized with minimum of 55% marks for general candidates and 50% of marks for ST/SC candidates.
Common Law Admission Test Fee for Application:
The application fee for general OBC/PWD and other category candidates is Rs.4000/- while submitting the CLAT Application Form
The Common Law Admission Test Fee is Rs.3500/- in case of the SC/ST category candidates
Previous year e- CLAT Sample Papers shall be available on the payment of Rs.250/- only; for this the mode of payment is Online only
CLAT Exam Pattern
This entrance examination gets conducted for the duration of 2 hours.
In this Computer Based Test (CBT) there will be multiple type questions based on General Knowledge, Math, English and Legal & Logical Reasoning.
For each accurate answer, you will get one mark and for each wrong answer, 1/4th marks will be deducted
There will be total 200 multiple answer type questions for UG Courses.
There will be 150 multiple choice questions for PG Courses.
Subject areas with weightage for CLAT UG Courses:
English including Comprehension: 40 Marks
General Knowledge and Current Affairs: 50 Marks
Elementary Mathematics (Numerical Ability): 20 Marks
Legal Aptitude: 50 Marks
Logical Reasoning: 40 Marks
Subject areas with weightage for CLAT PG Courses
Long Essay Type Descriptive Questions: 100 Mark
Multiple-Choice Questions: 50 Marks (50 questions of 1 mark each)
Exam Type
Objective
Question Type
Multiple Choice

| | | |
| --- | --- | --- |
| Subjects |  No. of Questions |  Marks |
| English | 200 | 40 |
| General Knowledge | | 50 |
| Elementary Mathematics | | 20 |
| Legal Aptitude | | 50 |
| Logical Reasoning | | 40 |

Total marks
200
Long Essay Type Descriptive Questions
100
Multiple-Choice Questions
50
Total marks
150
Marks for questions not attempted
0.00
Negative Marks for Incorrect Answer
-0.25
CLAT Syllabus
The interested applicants for CLAT Exam must check the CLAT Syllabus before they start their preparation. The examination syllabus of Common Law Admission Test covers all the sections of English, GK, Current Affairs, Mathematics, Legal Aptitude, and Logical Reasoning.
Refer the below provided link for topic wise CLAT Syllabus
https://drive.google.com/file/d/0By5qPgbHdghOd0s0UjJxLXhHUW8/view?usp=sharing
List of all National Law Universities
National Law School of India University – Bangalore
Nalsar University of Law – Hyderabad
The West Bengal National University of Juridical Sciences – Kolkata
National Law Institute University – Bhopal
National Law University – Jodhpur
Hidayatullah National Law University – Raipur
Gujarat National Law University – Gandhi Nagar
Ram Manohar Lohia National Law University – Lucknow
Chanakya National Law University – Patna
National University of Advanced Legal Studies – Kochi
Rajiv Gandhi National University of Law – Patiala
National University of Study and Research in Law – Ranchi
National Law University – Cuttack
National Law University and Judicial Academy – Guwahati
Damodaram Sanjivayya National Law University – Visakhapatnam
Tamil Nadu National Law School – Sriranga
Test Centers:
Agra Ahmedabad, Allahabad, Amritsar, Bangalore, Bhopal, Chandigarh, Chennai, Cuttack, Dehradun, Delhi, Gandhinagar, Gantok, Ghaziabad, Gorakhpur, Greate Noida, Gurgaon, Guwahati, Haldwani, Hyderabad, Imphal, Indore, Jaipur, Jammu, Jodhpur, Kochi, Kolkata, Kurushetra, Lucknow, Mumbai, Noida, Patiala, Patna, Raipur, Ranchi, Shilong, Shimla, Srinagar, Tiruchirappali, Varanasi, Vijayawada & Visakhapatnam