Hello everyone, are you a CA IPCC student? And getting ready for the CA IPCC exam. So that you need RTP (Revision Test Papers) for your preparation to get good scores. Here in this posting, you can find your curriculum syllabus with latest updated and with previous test papers or CA IPCC RTP which is very helpful for your preparation for your examination.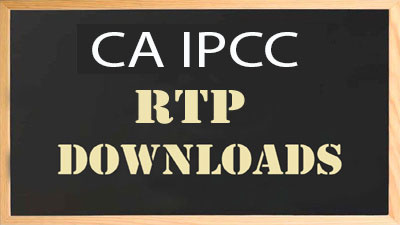 Let Us see the subjects in CA IPCC Exam May Month
Paper
Subject
Marks
Group-I
1
Accounts
100

2

Law, Ethics & Communication

Part I:      Business Laws (60 Marks)

comprising Business Laws

Company Law

Part II:     Ethics

Part III: Communication

100

30

30

20

20

3
Cost Accounting & Financial Management

Part I: Cost Accounting

Part II: Financial Management

100

50

50

4
Tax

Part I: Income-tax

Part II: Indirect Taxes

100

50

50

Group-II
5
Advanced Accounting
100
6
Auditing
100

7

Information Technology & Strategic Management

Section A: Information Technology

Section B: Strategic Management

50

50
Up to now, we have seen the CA IPCC whole syllabus with the division of marks. Let us now see the download links of all the subjects which are useful for CA IPCC May Month and here you can have the present revision test papers along with previous revision test papers for your preparation.
You can these below links to download in a pdf form separately subject by subject and year to year.
CA IPCC RTP May Month
In addition to this posting you can have the following:
You can get a clear idea how to plan and prepare for CA IPCC examination.
Whole and clear-cut view about subjects and division of marks.
You can have Topic wise questions with clear-cut answers in each paper.
There is an applicability of updates for each and every exam.
The main idea behind CA IPCC RTP are:
For helping the students in their preparation level for upcoming tests.
To provide all the information regarding CA IPCC exam with whole syllabus, subjects, division of marks part wise etc. through this post.
By preparing from these previous papers one can get their confidence levels at their best without hesitating to write the exam through prior studies and preparation.
By giving proper tips and guidance to students who will attend this exam they can attempt well.