Good news!!..Best Books for SBI Specialist Officer Exam, SBI SO Study Material, SBI SO Previous Papers PDF, Solved Papers for Various Exam are available here. You find SBI Specialist Officer (SO) Exam 2018 Preparation Books and various model papers with solutions in this site.
State Bank of India SBI SO Recruitment Exam is conducted to recruit candidates for the posts of Specialist Officer. The SBI SO recruitment is a golden opportunity for students looking for government jobs in the Banking sector.
If you have applied for SBI Specialist Officer Exam, it is time to start your preparation for the exam now. The first step for starting your preparation is to buy some books for SBI SO. These preparation books will help you to overcome written exam difficulties of SBI SO exam. When the exam is approaching, you need to start your preparation with the SBI SO Exam Preparation books.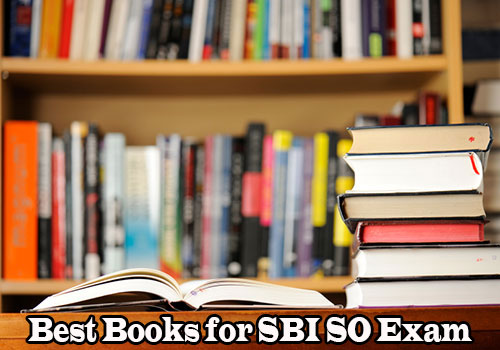 Here we are mentioning the SBI SO Exam Best books and study material for the upcoming examination.
Best Books for SBI Specialist Officer: Section-Wise Preparation
Nowadays a huge number of candidates are competing for the Bank jobs 2018. So the competition will be very high. Therefore the aspirants have to prepare in a proper manner in order to get shortlisted in the exam. For that purpose, we are providing Best Books for SBI Specialist Officer Exam.
Choosing the best study material for any exam becomes a difficult task. So one must choose the best study material for SBI SO Exam preparation wisely.
The best books of SBI SO exam deals with a particular section in detail and which have solved question papers for the previous few years. Let's check out the list of some SBI SO Exam best books that will help in your SBI SO Exam preparation.
SBI SO Exam Best Books: English Language
English is one of the most scoring sections, for SBI SO Exam. It requires an in-depth knowledge of basic grammar rules, strong vocabulary skills and reading skills.
Book Name: Shortcuts in Reasoning Verbal and Non-Verbal for Competitive Exams
    Author: By Disha Publications
Book Name: English Language Question Bank For All Banking Examination
    Author: ByG.K. Publications
SBI SO Exam Best Books: Quantitative Aptitude
Attempting Numerical Ability section is not an easy task. You need to practice a lot from various source s apart from learning the basics/ concepts.
Book Name: Quantitative Aptitude For All Banking Examinations
    Author: By G.K. Publications
Book Name: Handbook of Mathematics
    Author: Upkar Prakashan
SBI SO Exam Best Books: Professional Knowledge
Book Name: SBI Asst. Manager 2016-Professional Mock Test Series
    Author: By G.K. Publications
Book Name: Computer Knowledge Question Bank For All Examinations
    Author: By G.K. Publications
Also Download: SBI SO Previous Year Question Papers
SBI SO Exam: All in One/ Full Length Study Material
Book Name: Comprehensive Guide to SBI (Associates) Specialist Officer Computer Systems (IT) Exam
    Author: By Disha Publications
Book Name: SBI SO Assistant Manager Systems Mock Test Series 2016
    Author: By Cosmos BookHive
List of Some Reference Books for SBI Specialist Officer-IT
General Awareness & Current Affairs by Manohar Pandey
English Language by Lucent's General English
Network Analysis by G. K. Mithal
An introduction to data structures with applications: by Trembly and Sorenson
Engineering Mathematics by Lazpathroy
Computers and Commemsense" by Shelly and Junt
Network Analysis by M E Van Valkenberg
Spice for circuits & Electronics using Pspice by Mohd. H. Rashid
Engineering Graphics by K. L. Narayana & P. Kannayya
Electronic devices and circuits by Millman and Halkias
Data Structures and Algorithms by A.V. Aho, J.E. Hopcroft and T.D. Ullman
The C Programming Language by Kerninghan and Others
Discrete Mathematics by Johnson Bough
Applied Discrete Structures for Computer Science by Doerr and Levasseur
Data Communications and Networking by Behrouz A. Forouzan
Business Data Communications by Fitzgerald Jerry
Digital Design by F. Vahid
PC Hardware: The complete reference by Craig Zacker