This is the article named Bakery Courses Details which provides the complete information about the course such as Requirements, Course Structure, Course Duration, Fees, Syllabus, Top Course Studies in Baking, Jobs, and Concepts etc. Read the article completely to get all the Baking Courses details.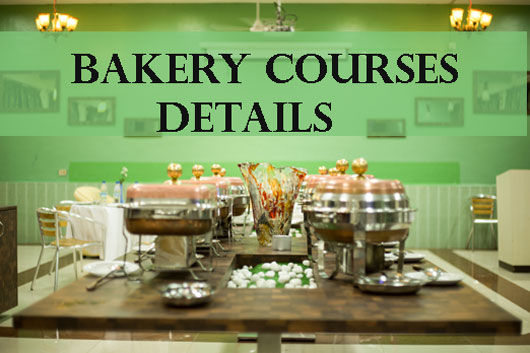 About Bakery Courses:
Baking is a method of cooking food that uses prolonged dry heat, normally in an oven. Mainly breads and Cakes are baked. Many other items are also baked. A person who prepares baked goods as a profession is called a baker. This is as per wiki. There are many types of Baking. There is huge requirement of bakers for Restaurants, hotels, Cake shops etc. This requirement increased students think of career in Baking. There are many types of Courses in Baking. This is the article Bakery Courses which provides all the information.
Bakery Courses List:
There are many courses in Bakery Courses. One of the most popular Courses is:
Professional Baking Course
Syllabus:
The topics that are covered in this professional Baking Course are:
Black Forest Cake
Basket of Flowers
Barbie doll Cake
Chocolate Surprise Box
Racing Car
Curry Puffs
Eligibility: The primary Eligibility for this course is this will be provided only for Ladies by many Institutes.
Duration:  The duration differs based on the course track you have selected. It contains  1 day, 3 days, 5 days, 15 days, 1 month, 6 months, 1 year and 2 year courses.
Certificate Course in Baking:
Certification is very much important for those who have completed the Bakery Courses to have a great Career with many Job oppurtunities. One of the best courses is:
Certificate Course in Bakery & Pattessierie
Eligibility:   Those Candidates who have passed 10th from any State Board of Higher Secondary Education or its equivalent with more than 50% marks are eligible.
Duration: The Duration for this Course is 6 months.
Syllabus: The Course contents that are covered in this course are:
Fee:  The Course Fee will be around 50k
 BREADS
Bread Rolls-Plain, Shaped, Ladhi Pao.
Bread Loaf-Plain, Whole Wheat.
Enriched and Flavoured-Soya, Multigrain, Ragi, Garlic, Garlic &
Cheese, Ginger.
French Bread, Baquette, Foccacia, Ciabatta, Lavash, Pita
Harlequin Bread.
Bread sticks.
Sweet and Savoury-Stuffed.
Pizza
Toast
OTHER YEAST PRODUCTS
Doughnuts-Chocolate, Stuffed.
Chelsea Buns.
Baba-au-rum.
Rum Savarin.
 CAKES
Fatless – Swiss Roll, Yule Log, Black Forest, Pineapple/Peach Gateaux and Pastries.
Plain and Chocolate, Genoese Sponge.
Rich cakes – Fruit, Dundee, Date and Walnut, Madeira, Pineapple Upside-down.
Butter, Lemon, Mango-creaming method.
Cup cakes – Vanilla Buns, Mava, Orange muffins.
Egg less Cake.
Banana and walnut cake.
Rava-coconut cake.
Madelines
PASTRY
Short crust – Jam Tarts, Apple Pie, Lemon curd, Quiche, Glazed
fruit tarts, Welsh cheese cake, Rich walnut pie, Cheese straws,
Bake well tarts.
Laminated pastry, Flaky and puff, Veg. Puffs, Turnovers, Bouchee
shells, Vol-au-vent, Palmiers Cheese straws.
Danish Pastry – Croissants.
Choux Pastry – Chocolate Eclairs, Cream Puffs, Profiteroles.
 BISCUITS
Tri – colour, Ginger, Savoury, Pista – Badam, Wine/Cats tongue.
COOKIES
Butter buttons, Melting moments, Golden goodies, Nankhatai, Swiss tarts,
Cherry knobs, Peanut coconut macaroons, Chocolate cream fingers, Surti butter.
 ICINGS
Butter cream, chocolate fudge, Choc Truffle, Royal, American
Frosting
Fondant –Cooked and rollout, Almond paste.
DEMONSTRATIONS
Brownies, Egg less brownies, Tiramisu, Strawberry cheesecake,
Chocolate mousse,
Lemon souffle, Caramel custard, Trifle, Lemon meringue pie Apple Strudel,
Baklava, Tuille, Honey biscuits.
Top Course Studies in Baking:
Other than the Certification Courses, there are some Top Courses In Baking. They are listed here:
Professional Pastry Programme
Italian Culinary Master
Professional Pastry and Confections
During The Evening Professional Pastry
The Culinary Apprentice School of the Arts: 6 month Pastry Chef Curriculum
Internship Program in Cooking or Pastry – Miami / South of France
Technician In Cooking And Gastronomy
Best Institutes in Hyderabad:
There are many Institutes in Hyderabad which offer Bakery Courses. The Best and Top 10 were listed here. Go through the list.
CULINARY ACADEMY OF INDIA
Alka's Cooking Academy
Nicky's Kitchen  Escapades Culinary Studio
Chef Ruchika's Culinary Institute
Vegetarian Cooking and Baking
ChocoFantasy Training And Finishing School
BakersKraft
My Velvet Cake House (Baking Class In Hyderabad)
Labonel Fine Baking
Khushi Hobby Classe
Stay connected with us for more and more updates.