ABOUT THE BOOK: After you was written by Jojo Moyes and published on 23rd September 2015. Pamela Dorman Books is the publisher of the book in English. In 2005 it participated as Nominee for fiction in Goodreads choice award. It is sequels story of the book 'Me before you' and narrator never thought about the book.
Queries arisen from the readers make her for narrating this novel.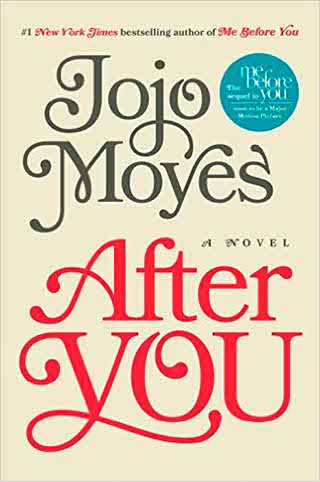 After You by Jojo Moyes Book Details
Name of the Book: After you
Publish Date: 23rd September 2015
Author: Jojo Moyes
Published by: Pamela Dorman Books
Price:   ? 439.00
Pages: 368
ABOUT THE AUTHOR JOJO MOYES
Pauline Sara Jo Moyes was the original name of Jojo Moyes and she was born on 4th August 1969 in London, England, UK. She attends to Royal Holloway School, University of London and completed the degree at Bedford New College, London University.
She was married to Charles (Maxwell) Arthur and also being an English journalist she got famous in writing romantic novels from 2002 onwards. She twice won the award as 'Romantic Novel of the Year' from the romantic novelist association. Some of the novels written by the author were given below:
'Sheltering Rain' in 2002.
'Foreign Fruit' in 2003.
'The Peacock Emporium' in 2004.
'The Ship of Brides' in 2005.
'Silver Bay' in 2007.
'Night Music' in 2008.
'The Horse Dancer' in 2009.
'The Last Letter from Your Lover' in 2010.
After You Book Summery / Contents
'After you' by Jojo Moyes was a book of 368 pages and it was number one bestseller book in New York Times.  It was a series book of the 'Me before you' and after the death of the Will, Louisa was uncomforted for living life without Will and so she went far from her house to avoid the loneliness she bought the flat in east London and went for the job in Irish themed pub nearby city airport.
From there she can watch all the planned which is going to be landed and take off. One night she had white wine sitting on the roof of his house and watching the entire visible city around her and remembering the Will.
After some time she falls from roof caused by Lilly a new character in this book and she was saved from danger by Ambulance Sam, another new character in the story. Lilly was a 16 years young girl, Sam was a paramedic doctor. And much more characters may come to play a key role in the story like her parents, oldest granddad, and sister Treena.
She loses her fitness and her face became dull and the story 'After you' mostly deals journey of the Louisa and we can see the new romance between the Sam and Louisa.
This book ends with happily and you can face much more joys and sorrows of two families in the story, the feel reaches to your heart.