All over India, many candidates in the massive count are showing interest to attempt the TET exam and get a job in teaching field. TET which means Teachers Eligibility Test. Candidates who are interested in the teaching field in government sector attend this exam all over India. In this posting you will completely know all the details about TET Entrance Test like TET notification, Applying Process, Admit Card, Result, Exam Dates and etc. And interested candidates can fill the application form for respective states.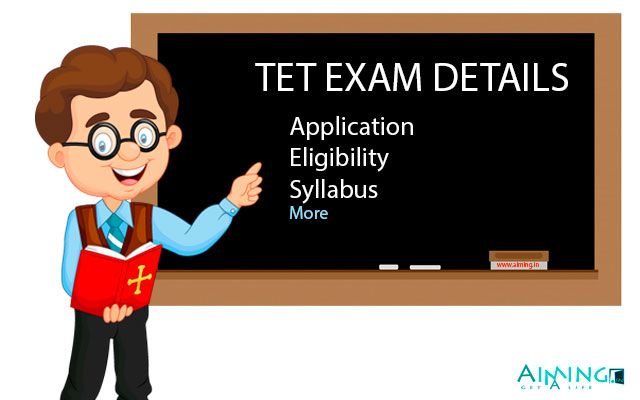 After the releasing of TET Notification that circulation will roam all over India. Candidates who are interested to attend this exam can follow the official website and can see the notification. Candidates who show more interest in the teaching field and get settled in this field can attend Teachers Eligibility Test (TET). For this year, the TET notification will be released soon. Interested candidates can download the registration forms from the official site. Candidates need to fill the form with correct information to avoid future mistakes and problems. For this TET exam, there are many numbers of candidates applied every time. Even this time also many candidates are eagerly waiting for the TET notification. For the candidates who are waiting for the TET notification, we are requested to follow the website daily to get up to date information.
TET Entrance Test
Let us know some more details about TET
TET (Teacher's Eligibility Test) it is a compulsory test conducted every time all over India. Usually, this TET exam is conducted by both Central Govt. and as well as State Govt. If any persons want to be a govt. teacher for Primary school students and as well as secondary school students one need to have to qualify for this TET exam with best marks. Teachers Eligibility Test Examination have to attempt by the candidates who want to become a school teacher. Candidates can apply and attend their TET exam in any state all over India. For those candidates who are only interested to teach for secondary school students they have to attend and another named CTET after TET exam.
Eligibility Criteria
7 years is the validity period for this TET exam qualified certificate for appointment decided by govt. for all categories for CTET exam
5 years for TET exam.
Interested candidates can attempt this TET exam any number of times.
To get this TET certification there is no particular rules and regulations for a number of attempts writing this exam.
To get more and more scores candidates can write the exam again and again.
Educational Qualification
Candidates who want to apply for TET exam must get their degree in Bachelor degree in Diploma in Education/ Elementary Education like as B.ED, BSTC, and M.Ed. Candidates will be selected based on their performance in written test.
TET Qualifyinmg Marks
To qualify for this TET exam one should gain 60% and above and considered as TET test cleared.
This qualifying mark may differ in state level.
The qualified candidates will get their TET certification by their appropriate state govt.
 TET Exam Certificate
Only to the candidates who are cleared and qualified this TET Entrance Test will get an award of certification with their personal details like name, date of birth, address, registration number, certification month and year, total marks obtained, class level of validity (primary level teacher or secondary level teacher) if secondary the respective teachers should teach main subjects like mathematics, Science, and Social Studies.
TET Exam Pattern
TET Entrance Test will be conducted in two paper 1 and 2 paper 1 is for 1st to 5th class and paper 2 is for 6th to a 10th class which is primary and secondary schooling. All are multiple choice questions each carries 1 mark with 4 options. In each and every state this TET exam is conducted twice a year.
Let us make glance about the subjects or topics and marks for TET exam
Paper 1: for Class I to V
| | | |
| --- | --- | --- |
| Subjects Name | Marks | No. of Questions |
| Language I | 30 | 30 |
| Language II | 30 | 30 |
| Environmental Studies (EVS) | 30 | 30 |
| Mathematics | 30 | 30 |
| Child Development & Pedagogy | 30 | 30 |
Paper II: for Class VI to VIII
| | | |
| --- | --- | --- |
| Subjects Name | Marks | No. of Questions |
| Language I | 30 | 30 |
| Language II | 30 | 30 |
| Social Studies (S.ST) | 60 | 60 |
| Child Development & Pedagogy | 30 | 30 |
| Mathematics | 60 | 60 |
| Science | 60 | 60 |
Name of states where TET exam conducts
AP TET
TN TET
Rajasthan TET
UK TET
Goa
Gujarat TET
Tripura TET
Meghalaya TET
Maharashtra TET
Jharkhand TET
Telangana TET
Manipur TET
Karnataka TET
Orissa TET
CTET
Kerala TET
HTET
MP TET
HP TET
UP TET
WB TET
Bihar TET
Sikkim TET
Punjab TET
Nagaland TET
Assam TET
TET Notification
This TET Entrance Test  conducts all over India in many of the states as mentioned above.
The eligible and deserving aspirants can get government teacher job which organizes many districts in India.
According to the candidate's eligibility, the teaching post give upper, middle and lower levels of education.
Interested aspirants can get a huge number of job opportunities through this TET exam.
Higher educational degrees such as Post Graduation and doctorates are an advantage.
There is an organization of this TET tests all over India once notification releases.
🙂 Follow this site for more and more updates about TET exam 🙂