About MP MET Exam: The full form of MP MET is Madhya Pradesh Management Entrance Test. MP MET Exam is conducted by Madhya Pradesh Professional Examination Board (MPPEB). The MP Vyapam MET entrance test is conducted for enrolling candidates for management course which is Management of Business Administration (MBA).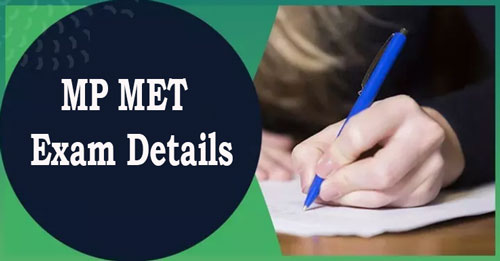 The candidates have the option to apply online and the download link of MP MET Notification from website of mponline.gov.in or vyapam.nic.in. For doing this, they have to pay the MP MET Application Fee for both the courses MBA & MCA. Here we are updating the important details of registration and fee details, eligibility and Madhya Pradesh MET Exam Date details to help applicants. We wish these MP Management Entrance Test Details helpful to candidates.
Eligibility for MP VYAPAM MET
The candidate must complete graduate from any recognized state university. The applicant should be an Indian national with at least 50% aggregate marks (45% for SC/ ST).
Those who have given the final year exam can also apply MP MET Exam.
MP MET Application Fee
MP MET Application Fee differs from general category candidate's application fee to reserved category candidates application and along with processing fee.
Candidates have to pay Rs 50/- towards application or additional charges.
Applicants must note that apply on before the late date.
MP MET Exam Pattern
The MP MET Exam is an objective type test having multiple choice based questions on the following sections:

Section 1: Business Data Interpretation: 20 Qns
Section 2: Business Judgement: 20 Qns
Section 3: Data Sufficiency: 20 Qns
Section 4: Numerical Ability: 50 Qns
Section 5: Reading Comprehension: 30 Qns
Section 6: Verbal and Writing Ability: 60 Qns

Total Marks Allotted for MP MET Exam is 200
Total Number of Questions is 200
The Duration of the exam is 2 hours 45 minutes
Syllabus for MP VYAPAM MET
Madhya Pradesh Vyavasayik Pariksha Mandal Management Entrance test (MP VYAPAM MET) is a graduation level examination and candidate who seeks admission in MBA. Already applied applicants and those who willing to apply can collect the Syllabus for MP VYAPAM MET Examination. The MP MET Exam Pattern and Syllabus will help you at the time of preparation.
Direct download link of MP MET Syllabus pdf
https://drive.google.com/file/d/0By5qPgbHdghOcDZRaXJYSGtvc00/view?usp=sharing
MP MET Score Accepting Institutes List
Extol Institute of Management
Oriental college of Management
Laxmipati Institute of science and Technology
Bhabha Engineering and Research Institute
Crescent Institute of Management
E.S. College
Rajeev Gandhi Proudyogiki Mahavidyalaya (RGPM) Salaiya
Jawaharlal Nehru Institute of Business Management Peoples Institute Of management and Research
K.D.F. Institute of Management
N.S. Business School (VNSBS)
N.S. Institute of Management (VNSIM)
Mahakal Institute of technology and management – Ujjain
Infinity Management and Engineering College -Sagar
S.H.C. Jain Institute of Management and Research Centre- Sagar
Synergy Institute of Technology- Damoh
Acropolis Institute of Management & Research-Indore
Chameli Devi Institute of technology and management-Indore
Core Business school (CBS)-Indore
Gyanodaya Institute of Management (G.I.M)-Neemuch
Indore Indira Institute of Business management-Indore
Indore Management Institute-Indore
Jaipuria Institute of Management- Indore
Mandsaurb Institute of Technology-Mandsaur
Pioneer Institute of Professional Studies- Indore
Star Academy of Technology and Management- Indore
Mahatma Gandhi Chitrakoot Gramodhaya University- Satna
V.M .College of Management- Gwalior
Shri Govindram Seksaria Institute of Technology and Science- Indore
Jain College- Gwalior
Indian Institute of Information Technology and Management- Gwalior
Prestige Institute of Management- Dewas
Royal College of Technology- Indore