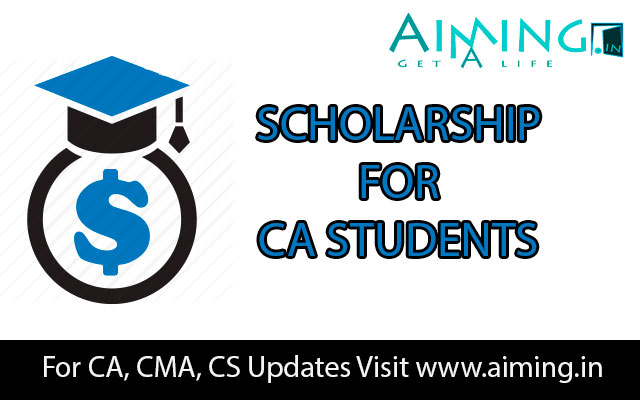 ICAI scholarship 2016: Hey guys, here is valuable information provided by Institute of charted accountants of India, i.e. ICAI scholarship 2016. So we are here providing the importance of providing the ICAI scholarship scheme and the eligibility. As per the preferred details we are discussing the ICAI scholarship eligibility that is essential for brilliant students. The ICAI scholarship selection process to apply and attaining scholarships based on the category. The official portal icai.org has provided the valuable information regarding scholarships for the students who are good at their studies.
Institute of charted accountants of India scholarship scheme
The Institute of Chartered Accountants of India abbreviated as ICAI as it is national professional accounting body of India. ICAI was established in the year 1949 on 1st July as a corporate body under the Chartered Accountants Act, 1949 enacted by the Parliament. ICAI is second largest professional Accounting & Finance body in the world after American Institute of Certified Public Accountants. ICAI also acts as licensing cum regulating body for the financial audit and accountancy profession in India. It enacts various policies and rule in the favor of students and for the development of company.  All the important details regarding the organization or the info essential for the students will be declared in icai.org. Recently ICAI scholarship 2016 is published for the students who are good at their studies, needy for money and for poor talented students. Coming to the ICAI scholarship scheme the rewarded amount is given based in the prescribed qualifications mentioned in the notification for the students.
ICAI scholarship eligibility
ICAI scholarship 2016 is categorized as merit, merit cum need and need based, and weaker sections. According to released ICAI scholarship scheme we have provided the necessary details regarding that are accumulated. Generally these scholarships increase the competitive spirit among the students.
ICAI scholarship selection
Merit Scholarship:
Students whose attained top 10 ranks holders come under the respective Merit lists of Common Proficiency Examinations that are held in the months of June & December. As well as PCC/IPCC Examinations were held in May/November annually are also selected for the Merit Scholarship. Rs 1500/- and Rs.2000/- per month are awarded respectively for the toppers of Common Proficiency Examination (CPE). PCC/IPCC Students also will get Scholarship for a span of 18 months where as the Rankers of PCC/IPCC (Final Students) will get for 30 months/remaining period of their article ship.
Merit-cum-Need based Scholarship:
All Merit students list or Rank holders of the Common Proficiency Examination/PCC/IPCC are eligible if their parents total income should not less than Rs.1,50,000/- per annum. Students selected for the award will get Rs.1500 p.m for 18 months and for the rank holders of CPT who registered for IPCC will attain for a period of 30 months/remaining period of article ship. Total 60 scholarships are awarded every year under this category.
Need-based and weaker sections Scholarship:
Students of PCC/IPCC and Final Course are eligible to apply for award of Need- based Scholarships based on their parent's annual income. The income should be less than Rs.1, 00,000/- per annum. Those students who would be selected this scholarship will be granted Rs.1250 p.m for 18 months for PCC/IPCC students period of 30 months/remaining period of article ship.  Total 200 scholarships are awarded every year under this category and two scholarships are reserved every year for physically handicapped students
How to apply:
Visit icai.org
Check for the recent updates
Click on the link of application form and download it
Or else link is provided at the bottom
Fill the details and post the application to the address given below
Address:
The Director,
Board of Studies,
The Institute of Chartered Accountants of India,
ICAl BHAWAN, A-29, Sector – 62,
NOIDA – 201 301,