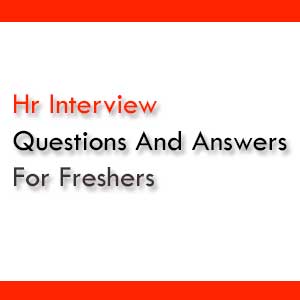 If you want to get a good job with very good salary then reading hr interview questions and answers for freshers is must before the interview. If you have any job experience then selecting you to the job might be based on your technical skills and experience. But as a fresher HR round plays a crucial role in the interview. Many companies like TCS, Wipro, Infosys will also conduct HR interview's. Preparing the HR interview questions for freshers will help a lot to the candidate if he practice answering at least the basic questions before the interview.
Common HR Interview Questions and Answers for Freshers
Only few basic interview questions and answers are given below and we will add more questions soon.
Question 1: Tell me about yourself?
This is the top most interview question asked in almost every interview. They want to know how you know about yourself. what are the points you should know are You have to start answering with your name and after that tell the information about the place you are living
where are you from like that. After your place information give information about your education background in short. If you have job experience you can explain it or if you are a fresher then you can say about your achievements in your school or college. Finally now you can tell you family details like your father and mother name, their occupation, about your brothers or sisters etc.
Answer 1:
My name is Krishna. I live in Bangalore. I have done B.Tech in Computer science. I have 1 year experience in web development using java technologies.
Question 2: Why do you want to work at our company?
Many interviewers ask this question. They want to know why you are interested to join In their company. So tell them what you know about their company and why you are interested to join in their company by relating your long term career goals with it. Tell that how working in their company will help your career to improve.
Answer 2:
Sir, when I read about company I found that my skills are matching your requirements. By working in your company I can use my technical skills to contribute to the company and improve my experience in this field.
Question 3: What are your strengths?
Interviewer wants to know what skills you have and how they are useful for the company. You can include many points related to your skills and working. Like Adaptability, Hardworking, Honest, Flexibility, Optimistic, Fast decision making, persistence, self-motivated etc.
Answer 3:
I am honest, hardworking and self-motivated person with positive attitude towards my career and life.
Question 4: What are your weaknesses?
They want to know whether your weakness can affect the job profile or company. By answering in a best way you can convey a message to the interviewer that you have clarity about self and you can motivate yourself to overcome your weakness to improve yourself. Here you can include your strengths as your weakness.
Answer 4:
Straightforward, Impatient, Sensitive, More talkative, Trusting people very quickly,  Taking decisions very quickly etc.
Also see: TCS Careers
How to Download Top Interview Question and Answers for Fresher's & Experienced PDF File?
Click on the following link @ Interview Question and Answers Pdf
Then new tab generated on your screen
Read the entire article and click on download pdf provided on that page
And Save the pdf file on your System
Start Your Preparation without delay
 All The Best!!!