GRE Exam Details: GRE Full Form is Graduate Record Examination. Many schools have accepted the GRE test as an alternative to the GMAT (Graduate Management Admission Test). You know many students are not aware that there are many top Business Schools accepting GRE Scores across the World. And not just in USA, major business schools in Canada, UK, France and even Asian countries are increasingly accepting GRE scores for admission to their MBA programmes.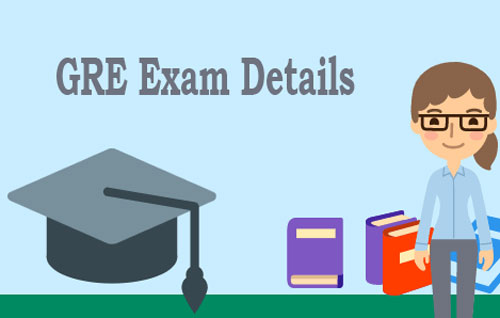 If you want to get full details about GRE Exam Dates please refer the complete article. There is no specific GRE Eligibility Criteria for the test. Hence, the candidates sitting for GRE Exam do not have to fulfill any necessary requirements. Just you can know the details about Graduate Record Examination Fee, Syllabus, Exam Pattern and GRE Sample Questions on this spot. The best way you can prepare for the test is by taking GRE Sample Test.
About GRE Exam:
If you're planning on going to graduate school, you will probably need to take the GRE Exam. Graduate Record Examination shortly called as GRE. It is a standardized test that is an admissions requirement for most Graduate Schools in the United States (US).
The Educational Testing Service (ETS) has been actively promoting the fact that a huge number of MBA programs that traditionally accepted only GMAT scores have started accepting GRE scores as well. GMAT is the only MBA entrance examination which is expected by institutions abroad, one cannot give GRE to get admitted to MBA program of foreign universities, GRE is for Pursuing MS programs abroad.
The GRE Score valid for 5 years. Both the GMAT and GRE is computer-based test and can be taken throughout the year, however in areas where computer-based testing is not possible, GRE is available as a paper-based test up to thrice a year.
There are three ways in which you can apply for the GRE Exam i.e. Online Registration, Phone Registration, and Mail Registration.
GRE Exam Details of Eligibility Criteria
There is no specific GRE Eligibility Criteria. However, various universities that accept GRE scores have their own criteria of admission.
Graduate Record Examination Fee
The test fees for the GRE may vary according to the country. You cannot pay in Indian rupees. Acceptable forms of payment are credit or debit card or money order or certified check/voucher for computer-based tests.
The registration fee to take the GRE Exam is $195. While compare to GMAT Exam Fee this is cheaper. There are extra charges of $50 if you want to change your center or reschedule the test.
GRE Subject Test Fee
The test fee for the GRE Subject Test is currently $150 (approx Rs.9000.)
GRE Exam Pattern
Get through the latest GRE Exam Pattern & prepare yourself according to GRE new pattern for best scores in the Graduate Record Examination.
There are also 7 GRE Subject Tests testing knowledge in the specific areas of Biochemistry, Cell and Molecular Biology, Biology, Chemistry, Literature in English, Mathematics, Physics and Psychology. The duration of each exam is 170 minutes.
General GRE Test Pattern
As per the GRE test pattern, the total duration of the Computer-based test is 3 hours 45 minutes.
There are 6 sections with a 10-minute break following the third section.
Measure
Number of Questions
Time
Analytical Writing(One section with two separately timed tasks)
One "Analyze an Issue" task and one "Analyze an Argument" task
30 minutes per task
Verbal Reasoning

(Two sections)

20 questions per section
30 minutes per section
Quantitative Reasoning

(Two sections)

20 questions per section
35 minutes per section
Unscored
Varies
Varies
Research
Varies
Varies
GRE Exam Syllabus
After finishing the registration process, applicants are starting searching for GRE Exam Syllabus. Actually, Syllabus can play an important role through which students can prepare their subjects easily. The Graduate Record Examination Syllabus pdf is available here for download.
Refer the below link for GRE Syllabus
https://drive.google.com/file/d/0By5qPgbHdghOR1haWUVIcXpWQms/view?usp=sharing
Test Centers in India:
Ahmedabad.
Allahabad.
Bangalore.
Calcutta.
Chennai.
Gurgaon.
Hyderabad.
Mumbai.
New Delhi.
Trivandrum.
List of Business Schools that accept GRE