ECE Project Ideas are available for the final year students . ECE stands for Electronics and Communication Engineering. This branch of Engineering is very demanded branch and has many career options. In this article we have provided you the list of ECE Projects.
Every Engineering Student should complete their project successfully in the final year to get their Engineering  Certificate. There are many ECE projects such as Micro Controller Based Projects, Solar Based Projects, Electrical based Projects, Robotics ,Sensor Based Projects etc.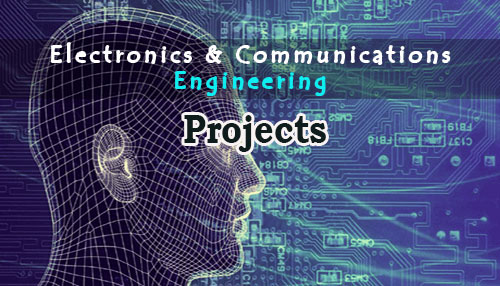 ECE Projects are of Various Kinds .They are
Solar Based Projects
Electrical Based Projects
Robotics
Power Electronics Based Projects
Solar Based Projects
Solar Based Projects on solar energy facts .Here are the list of solar based projects for the final year students
Implementation of Solar Inverter for Home Garden /Street Light Applications.
Design and Implementation of maximum power tracking system by automatic control of solar panel direction according to the sun direction.
Solar based high efficient vacuum cleaner capable of capturing even 40 microns small dust.
Solar based Energy Measurement System
Solar based air Compressor Pump for Car Bike Tire Inflate.
Robotics
ECE Projects based on Robotics. The list of ECE Projects are
Artificial Intelligence,Fuzzy Logic , Neural Networks.
Wireless AI based mobile robot for multi-speciality Operations
Wireless AI based fire fighting robot for relief operations
Wireless AI based intelligent-robot for materials handling
Integrated rule based control of robot using fuzzy system & neural Networks
Ai based fire fighting robot for relief operations
Ai based intelligent-robot for materials handling
Fire fighting robotic vehicle
Ai based mobile robot for multi specialty operations
Industrial security robot with motion detection system
Microcontroller controlled robot arm for paint spraying
Production monitoring robot
Two axis robot with artificial intelligence
Three axis robot with artificial intelligence
Four axis robot with artificial intelligence
Five axis robot with artificial intelligence
Wireless industrial security robot
Alive human detector robot with counter using wireless pc interfacing
Microcontroller based surveillance robot for a military application
Pc controlled wireless robot using RF module with feedback sensor to detect fire.
Pole climbing robot
Electrical Based Projects
Noise less speed control of dc motor using PWM converter
Remote control of AC / DC motor with parameter monitoring
Remote on / off of an AC / DC motor
Remote on/off controller for ac motors with parameter monitoring
Remote speed control of AC / DC motor
Remote switching system for home appliances
Dual control of electrical devices through computer keyboard and Hardware
Substation monitoring system – electrical transmission and distribution Process
Electrical network automation & communication systems
Remote data monitoring & data analysis for power station
Post paid electricity billing automation
Power sharing of transformer with overload protection
EB theft monitoring and control system
Artificial intelligent solar tracking system with true graph & pc interface
Petrol level indicator
Power Electronics Based Projects
Intelligent power factor correction with multiple capacitors banks.
Intellectual power analyser & phase changer.
Hand held intelligent multi parameter monitoring system – das with LCD display.
Smart multi-functional power meter with LCD display.
Digital energy meter & voice annunciation with proximity card – contact less.
Intelligent power sharing of transformers with auto protection.
Prepaid digital energy meter billing & cost indicator with voice announciation.
Multiple starter with overload & high, low voltage protection.
Prepaid electricity billing automation & cost indicator.
Industrial power management system.
Smart power monitoring for efficient energy management.
Distribution & substation automation with SCADA.
Automatic phase changer cum change over & load breaker.
Microcontroller based SCADA for substation by WAP.
Microcontroller controlled power supply for testing application.
Power line monitoring system.
Other Major ECE Projects
Level Indicator for Petrol Dispensing Stations with Audio Alert System.
Advanced Timer-Based Suicide Machine (Plug).
Hi-Tech Wireless Equipment Controlling System.
Recognition Technique For ATM-Based On Iris Technology Using Arm-7.
Binary Clock Inside Power Supply Brick.
Automatic Street Light Controlling System Using PIR and Zigbee.
Wireless Digital Fuel Indicator for Cars to Avoid Sudden Stoppage of Vehicle.
Two Wheeled Self Balancing Robot.
Arduino Based Remote Control Robotic Vehicle.
Microcontroller Based Walking Robot with Multi New Features.
Light Following Robot.
Arduino Based Dc Motor Speed Control Using PWM Technique.
CAN Protocol-Based Automotive Street Light Switching System.
CAN Protocol-Based Traffic Light control System.
Detecting the Conditions of Remote Areas through Data Acquisition System Using Rf Module.
Design and Implementation of Home Automation Using CAN.
Automatic Active Phase Selector for Single-Phase Load from Three-Phase Supply.
Solar-Based Mobile Charger for Rural Areas (Charge Your Mobile Anywhere with Sunlight) with a Battery Voltage Analyzer Using ATMega 8/16/32.
Digital Vehicle Speedometer with Password Enabled Speed Limit Setting.
Touch Screen Based Prepaid Digital Energy Meter with GLCD.
Vehicle to Vehicle Communication Protocol for Co-Operative Collision.
Laser Touch Based Voice Transmitter and Receiver.
Accident Information System Using GPS, GSM Sensor.
Sending SMS with Speech Reorganization Interface.
Decentralized Smartphone-Based Traffic Information System.
Raspberry Pi Temperature Humidity Network Monitor.
Raspberry Pi Based Security Surveillance Camera.
Raspberry Pi Based Pick and Place Robotic Vehicle.
Solar Highway Lighting System with Auto Turnoff on Day Time With LCD Display.
Dual LCD Display Using 8051 Microcontroller.
Increasing the Safety of Bomb Disposal System Using Zigbee Technology.
Calling Number Identification Using Calculator.
Automatic Elevator Light and Fan Control System.
Easy to Use Automatic Light Controller to Turn on Lights in Dark Using Advanced Sensors.
Electronic Nose to Indicate Gas Leakage in Underground Mines and Industries.
Visual Monitoring and Alerting System for Restricted Areas.
Water Level Indicator and Filling Time Estimator.
Electromagnetic Climbing Robot for Industries.
Sleep Sensing and Alerting System for Drivers.
Voice-Based Wheel Chair Controller for Physically Handicapped.
Design and Development of Microcontroller Based Drug Dispenser Using Biomedical Technology.
Microcontroller Based Substation Monitoring and Controlling System.
Speaking Microcontroller for Deaf and Dumb.
Mobile Phone Based Street Light Monitoring and Controlling System.
PC-Based Motor Speed Monitoring System.
PC-Based Wireless Code Locking System for Machines.
Coin-Operated Cell Phone Power Charger.
Advanced Helmets for Bikers for Security Measure.
Automatic School Bell with User-Defined Time Schedule Using I2c Protocol.
Ultrasonic Based Path Planning for Blind Persons.
Effective Solar Tracking System for Optimal Power Generation and Lift Operation through Solar Power.
Intelligent Mobile-Based Patient Monitoring System.
Automatic Light Lamp for Morning Alarm.