CSAT Exam Details: Civil Services Aptitude Test (CSAT) is a compulsory part of Civil Services Examination that acts as a screening test to Civil Services Main examination Conducted annually by UPSC (Union Public Service Commission). It is also known as Civil Services Preliminary Examination.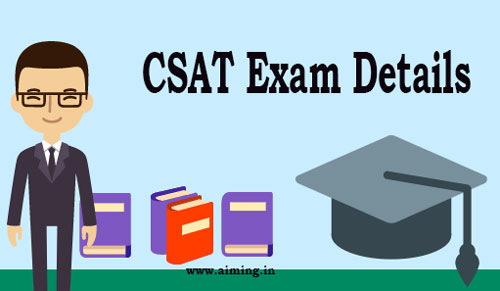 Through this CSAT Notification, aspirants may verify all important dates & CSAT Exam Eligibility Criteria. Because without knowing these details no applicants able to fill their CSAT Application Form in correct manner. Below we have stated the step by step process of Civil Services Aptitude Test Registration for you people convenience. Here you can also get the CSAT Exam Pattern and Syllabus for preparation purpose.
About CSAT Exam:
The full form of CSAT is Civil Services Aptitude Test. Every year CSAT Exam is conducted by Union Public Service Commission (UPSC) to select candidates for Civil Services Main Exam. Those who pass the Mains Exam and Interview can join prestigious Indian government services such as IAS (Indian Administrative Service), IPS (Indian Police Service), etc.
Candidates who are interested and eligible for Civil Services Aptitude Test must look out CSAT Notification which is well customized below. You can apply to a maximum of 6 times. The candidates belonging to OBC category can apply for a total of 9 times. This restriction on the number of attempts will not apply in case of SC and ST candidates.
Educational Qualification
Candidates must have a degree in relevant discipline from a recognized University / Institute
Number of Attempts
4 attempts permissible for candidates belonging to General Category
7 attempts permissible for OBC and Physically Handicapped
No limit for SC/ST Category
Age Limit
A candidate must have attained 21 years and not be over 30 years
Civil Services Aptitude Test Registration
Part I- Registration:
Fill all the mandatory fields regarding your Qualification, Age, and Address, Nationality, Marital status, Valid Email Id and phone number etc.
After that submission of form, you get a registration number.
Part II- Registration:
Log in Again with your registration number with date of Birth.
Pay the CSAT Application Fees via challan or online payment through Debit/Credit card or Net Banking)
Paid fees via challan then enter your transaction details respectively.
Take printout of online CSAT Application Form for future reference.
Selection process:
The examination is conducted in 3 stages
Civil Services Aptitude Test (CSAT)
Civil Services (Main) Examinations conducted for candidates selected in the preliminary examination.
Those who are selected in the main examination are eligible to appear before the Interview Board.
CSAT Exam Pattern:
CSAT shall now comprise of two compulsory Papers of 200 marks each and of two hours duration each. The questions will be of multiple choices, objective type.
The Main Written Examination is only for candidates who have been short listed through the Preliminary CSAT Written Exam. This exam consists of 7 papers.
Paper on Indian languages (250 marks), English (300 marks), General Studies–I (Indian Heritage and Culture, History and Geography of the World and Society) – 250Marks, General Studies (three papers each of 250 marks) and any two optional subjects chosen by the candidate (each having two papers of 250 marks each) and a Personality Test (275 Marks).
Languages: Assamese, Bengali, Bodo, Dogri, Gujarati, Kannada, Kashmiri, Konkani, Maithili, Malayalam,Manipuri, Marathi, Nepali, Oriya, Punjabi, Sanskrit, Santhali, Sindhi, Tamil, Telugu, and Urdu
Optional Subjects for the Main Examination: Agriculture, Animal Husbandry & Veterinary Science, Anthropology, Botany, Chemistry, Civil Engineering, Commerce & Accountancy, Economics, Electrical Engineering, Geography, Geology, History, Law, Management, Mathematics, Mechanical Engineering, Medical Science, Philosophy, Physics, Political Science & International Relations, Psychology, Public Administration, Sociology, Statistics, Zoology, Literature of one of the following languages:
Assamese
Bengali
Bodo
Dogri
Gujarati
Hindi
Kannada
Kashmiri
Konkani
Maithili
Malayalam
Manipuri
Marathi
Nepali
Oriya
Punjabi
Sanskrit
Sindhi
Santhali
Tamil
Telugu
Urdu
CSAT Exam Fee:
Candidates (excepting Female/SC/ ST/PH Candidates who are exempted
from payment of fee) are required to pay fee of Rs. 100/- either by remitting the money in any Branch of SBI by Cash, or by using net banking facility of State Bank of India / State Bank of Bikaner & Jaipur/Sate Bank of Hyderabad/State Bank of Mysore / State Bank of Patiala /State Bank of Travancore or by using Visa/Master Credit/Debit Card.
Examination Centres
Agartala, Dehradun, Kochi, Sambalpur, Ahmedabad, Delhi, Kohima, Shillong, Aizawl, Dharwar, Kolkata, Shimla, Allahabad, Dispur, Lucknow, Srinagar, Alligarh, Gangtok, Madurai, Thiruvananthapuram, Aurangabad, Hyderabad, Mumbai, Tirupati, Bangalore, Imphal, Nagpur, Udaipur, Bareilly, Itanagar, Panaji (Goa), Vishakhapatnam, Bhopal, Jaipur, Patna, Chandigarh, Jammu, Port Blair, Chennai, Jodhpur, Raipur, Cuttack, Jorhat, Ranchi