Many of the students are in dilemma that after the completion of engineering which course we have to do? Which best course place our career in top position?  Like these type of questions raised in the students' mind. There are many courses related to mechanical engineering. In this, you can find the Best Courses in mechanical engineering after B.Tech based on your interest.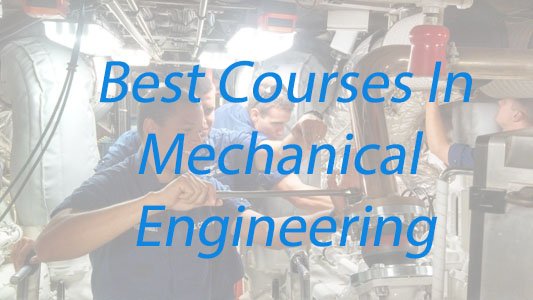 Let us see the list of courses can do after the completion of engineering in a Mechanical branch:
List Of Some Best Courses in Mechanical Engineering
M.Tech in Mechanical Engineering
M.Tech is a very popular advanced course in Mechanical Engineering. Reputed institutions like all the IITs, NITs, BITS and some more colleges and universities offer M.Tech courses in Mechanical Engineering. This is a 2-year full-time program to be taken after a B.Tech. For working engineering graduates, this is a 3-year part-time regular program. You can get admission through GATE examination.
Piping Design and Engineering Course
Courses offered by various institutes:
Tech in Piping Design and Engineering
Certificate Course in Piping Design & Drafting
Certificate Course Pipe Stress Analysis
Diploma in Piping Technology
Post Graduate Diploma in Piping Design Engineering
Job prospects:
Petroleum Refinery sectors
Merchant Navy
Manufacturing firms
Pursuing Piping Engineering opens career opportunity in Chemical Industry.
All these sectors have great demand for Piping specialists
Master of Engineering in Tool Design
E. in CAD/CAM
Advanced Diploma in Tool & Die Making (ADTDM)
Tech (Mechatronics)
E. in Tool Design
G. Course in Tool, Die & Mould Design
Post Diploma in Tool Design
Robotics Course
Courses offered in Robotics as follows.
Diploma in Robotics
Master of Technology in Robotics
Master of Engineering in Advanced Robotics
Master of Technology in Mechatronics Engineering
Master of Technology in Automation & Robotics
Master of Technology in Artificial Intelligence and Robotics
Master of Engineering in Robotics Engineering
Master of Engineering in Robotics & Automation Engineering
Master of Engineering in Automation and Robotics
Job Prospects:
A robotic engineer has great job prospects in space research organizations
Medical and automotive industries for making experimental robotics.
In industries which manufacture microchips
In the military and so on.
Mechatronics Course
Courses offered in Mechatronics Course as follows.
Master of Engineering in Mechatronics Engineering
Master of Technology in Mechatronics Engineering
Job prospects
After completing M.E / M.Tech in Mechatronics, job opportunities are       primarily found in
Electronics industry
Navy
Defense
Manufacturing
Mining
Robotics
Gas and oil
Automobile
Transport
Army
Aerospace and aviation
Airforce and etc.
Nanotechnology
Courses offered in Nano Technology are as follows:
Master of Engineering in Nanotechnology
Master of Technology in Nanotechnology
Master of Science in Nanotechnology
Specialization subjects include in this Nano Technology are.
Wet nanotechnology
Green nanotechnology
Materials science
Nanomechanics
Nano-biotechnology
Nanoengineering
Nano architectonics
Job Prospects for Nano Technology
Nanotechnology professionals are in great demand in
As investment advisors in biotechnology
Healthcare markets
Environment industries
Pharmaceutical
Industrial products Electronics
Product development and advising
Research and development in government
Private research institutes and etc.
Master's in Business Administration
A very well-known course after engineering for any branch graduates is a P.G. Diploma Course in Management or MBA. It is very much helpful to a student who has done his/her Business administration with B.Tech. In this case, there are much more chances of career options to be in a good position.
The obvious choice- CAD/CAM
Several institutions provide specialized programmes in various software as follows. This CAD/CAM course is one of the Best Courses and popular too.
AutoCAD
CNC
Pro/E
CATIA (Computer Aided Three-dimensional Interactive Application)
UG (Unigraphics) etc.
Thermal engineering
Thermal engineering is the branch of science that deals with thermodynamics, fluid mechanics, heat and mass transfer etc. This is one of the Best courses for Mechanical Engineers. If you are fascinated by how your refrigerator works or the production of thermal power equipment this specialization is for you.
Manufacturing plants, research and development departments, thermal power plants, oil and gas refineries
Several industries are looking for mechanical engineers with a diploma/PG degree in thermal engineering.
IT's in- IT courses
You can specialize in any software of your choice to join the IT industry. This IT industry which offers packages in high level with the best working environment and to grow and to innovate. JAVA, Android, Dot Net, IBM Mainframe, PHP, IOT at and etc. courses can learn by Mechanical Engineering students and can get into good jobs in the IT industry.
Seas of change- Marine engineering
Every youngster's dream is to wear the spotless white uniform and join the illustrious Merchant Navy. You are closer to it with your mechanical engineering degree. Both engineering branches that mechanical and marine engineering have many things in common. There are more institutes that offer marine engineering courses. There is a huge shortage of maritime professionals in the shipping sector, which is another reason why this course is worth enrolling in.
Offbeat choice- Oil rig drilling
The oil industry is one of the richest and booming industries in the world. Oil become one of the needed things in our daily life. There are job opportunities in oil fields and oil and gas industries across the world. Students who specialize in this stream can take up highly paid off-shore projects. There is also a huge demand for maintenance engineers and drilling engineers in several top industries.
Let us see some more Courses a mechanical engineer can do as follows.
Mechanobiology and Bio fabrication Methods
Additive Manufacturing
Solid State Physics
The Jet Engine
Mathematical methods and Fluid Mechanics
Engineering: Mechanics, Materials, Design
Applied Electrochemistry at Micro and Nanoscale
The above article which gives you an idea about the list of Best Courses which you can do after the completion of your Mechanical Engineering Degree. So According to your interest and settle in the best career.
BEST OF LUCK
Also see –
Best Courses In Computer Science Engineering