In this article I am going to let u know the AP ICET Syllabus. Since many aspirants those who have already applied for AP ICET exam are searching for AP ICET Syllabus. As syllabus is to be known first to prepare for the AP ICET exam. As the competition is very tough these days for any exam, candidates who are going to attend the AP ICET exam must know the AP ICET Syllabus.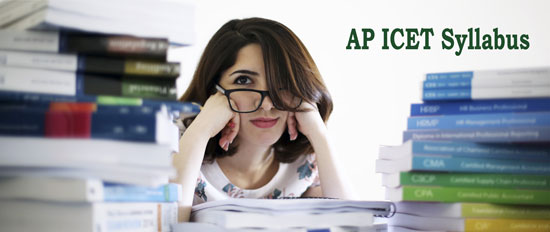 AP ICET exam will be held on May. To get prepared well for the exam, first get the syllabus. Read this article completely to know the AP ICET Syllabus.
Andhra Pradesh ICET Exam Details
| | |
| --- | --- |
| Name of the exam | AP ICET |
| Name of the University | Sir Venkateswara University ,Tirupathi |
| Exam Board | Andhra Pradesh State Council of Higher Education |
| Level of Exam | State Level |
| Admission into | MBA and MCA |
| Last date for Online Application | April |
| Date of the Exam | May |
| Category | Syllabus |
| Official website | www.sche.ap.gov.in |
AP ICET Syllabus
Candidates need to attempt 200 questions in a duration of  150 minutes.Here is the detailed syllabus of AP ICET
There will be three sections for AP ICET exam
Section A – Analytical Ability
Section B – Mathematical Ability
Section C – Communication Ability
AP ICET Syllabus – Section A – Analytical Ability
Data Sufficiency
Problem Solving
Sequences and Series
Numbers and alphabets
Missing number in a sequence.
Data Analysis
Tables and Graphs
Bar Diagram
Pie Chart
Venn Diagram
Passage
Coding and Decoding
Date ,Time and Arrangement Problems
Calendars and Clocks
Blood Relationships
Arrivals and Departures
Seating arrangements
Symbol Interpretation
AP ICET Syllabus – Section B – Mathematical Ability
Arithmetical Ability
Indicies ,Ratio and Proportions
Surds
Numbers and Divisibility
LCM and GCD
Rational Numbers
Ordering
Percentages
Profit Loss
Partnership
Pipes and Cisterns
Time and Distance
Areas and Volumes
Mensuration
Modular Arithmetic
Algebraic and Geometrical Ability Statements
Truth Tables
Tautologies – Sets
Relations and Functions
Trigonometry
Polynomials
Remainder Theorem and Consequences
Linear Equations and Expressions
Progressions
Binomial Theorem
Matrices
Notion of a limit and derivative
Plane Geometry – Lines
Triangles , Quadrilaterals , Circles
Coordinate Geometry – Distance between points
Statistical Ability
Frequency distributions
Mean , Median and Mode
Standard Deviation
Correlation
Probability
AP ICET Syllabus – Section C – Communication Ability
Vocabulary
Terminology and Concepts in Computer and Business Contexts(letters, reports, memoranda, agenda, minutes etc)
Functional Grammar for day to day Communication
Understand written text and drawing inferences
Functional grammar for business contexts
Reading Comprehension
Download AP ICET Syllabus – Click Here
AP ICET Exam Pattern
Section
Subject
Questions
Total Time
Section A
Analytical Ability
75

2 hours 30 minutes(150 minutes)

Section B
Mathematical Ability
75
Section C
Communication
50
Note: No Negative marking for the wrong answers.
Hope this article will be helpful to know the AP ICET Syllabus, which gives a kick start for your preparation.