AIIMS Exam Details: AIIMS means All India Institute of Medical Sciences, New Delhi provides admission to the students who are willing to pursue MBBS and other medical courses at various levels by conducting a national wide entrance examination by name AIIMS Entrance Examination followed by the academic year.
Importance is given mostly to the candidates who like to pursue MBBS and the examination conducted on this behalf is called as AIIMS MBBS Entrance Examination. Let's look for the complete information about AIIMS Exam.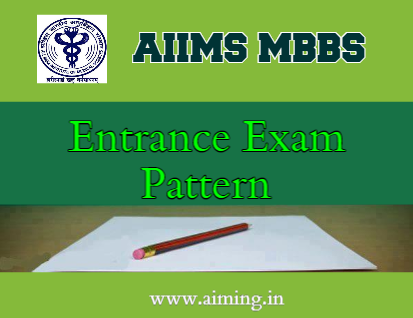 AIIMS Exam Details
| | |
| --- | --- |
| Name of the Examination | All India Institute Of Medical Sciences |
| Commonly known as | AIIMS |
| Conducting Authority Name | AIIMS, New Delhi |
| Examination Level | National Level UG Exam |
| Type | Medical Entrance Exam |
| Official Website | www.aiimsexams.org |
AIIMS Entrance Exam Syllabus
The syllabus About AIIMS Exam comprises of Physics, Chemistry, Biology with Botany & Zoology and General Awareness. The syllabus for the subjects are based on Intermediate sciences. Now let's look for the topics that are covered under each subject for preparation of exams.
Physics:
Motion
Electricity; Solids
Circular Motion
Measurement
Nuclear Physics
Electronic Devices
Wave Motion – Optics
Kinetic Theory of Gases
Electro-Magnetic Induction
Physics of Atom – Thermodynamics
Thermodynamics: Work & Heat, First Law of Thermodynamics
Chemistry
Section A: General & Inorganic Chemistry: – Periodic Properties of Elements, Molecule & Chemical Bond & Structure of Atom.
Section B: – Organic Chemistry: – Chemistry of Elements & Compounds.
Section C: – Physical Chemistry: – Chemical Equilibrium, Energetic and the State of Matter.
Biology:
Botany: – Absorption & Cell water relations, Transport of water & Minerals; Anatomy & Physiology of Plants – Meristems Plant growth & development; Botany & Human Welfare; History, Importance, Factors & Mechanism; Internal & External regulators of growth & development in plants; The internal structure of dicot & monocot leaves photosynthesis; Internal structure of dicot & monocot roots; Internal structure of stem & secondary growth; Transpiration & respiration; Tropic & turgor movements; Xylem & Phloem – Their cell elements & functions.
Zoology: – Anatomy & Physiology, Development Biology, Diversity in Animal Life, Genetics & Evolution – Fundamentals & Symbiosis, Histology, Reproductive System.
General Awareness:
| | |
| --- | --- |
| Top Officials of Big Companies | Punch line of Companies |
| Major Corporate Events | Famous Awards & Prizes |
| Books & Authors | Current Affairs |
| World Records | Science |
| Business | History etc. |
AIIMS Exam Pattern
AIIMS exam pattern can be furnished below:
Exam Mode
Computer Based Test (CBT)
Duration
Three-and-half-hours(3hrs30mins)
Exam Shifts
First Shift – 9:00 AM to 12:30PM

Second Shift – 3:00PM to 6:30 PM

Language
English & Hindi
No. of Questions
200
Type of Questions
Multiple Choice & Reason-Assertion
Marking Scheme
One Mark for every correct answer
Negative Marking
1/3 will be deducted for wrong answer
AIIMS MBBS Exam Dates
| | |
| --- | --- |
| AIIMS MBBS Exam Events | Important Dates |
| Registration Notification | January 2018 |
| Online registration starts | January 2018 |
| Online registration Last Date | February 2018 |
| Check Status of registration |  March 2018 |
| AIIMS MBBS Admit Card 2018 | May 2018 |
| Date of Examination (Online) | May 2018 |
| Declaration of AIIMS MBBS Result 2018 | June 2018 |
| First Counselling | July 2018 |
| Second Counselling | August 2018 |
| Third Counselling | September 2018 |
| Open Counselling | September 2018 |
Note: Medical Entrance Exam Dates not fixed as it is usually conducted in the month of May every year.
Cut Off
Cut-off marks is the minimum marks in which the students have to score in the entrance exam for admission. The expected cut-off details are mentioned below:
| | |
| --- | --- |
| Category |  Cut-off |
| General | 50% |
| OBC | 45% |
| SC/ST | 40% |
| OPH | Cut-offs for respected category |
Preparation Tips
Along with AIIMS Exam Details here we provided valuable preparation tips and tricks. Students may not be aware of preparing for exams in a systematic way and may get confused to prepare in a systematic way. Just go through the tips for a systematic preparation of exams.
For obtaining good score, a student should strive hard. For that he should spend a lot of time in preparation of exams i.e. per day he should spend approximately 18hours.
The time schedule should be fixed in a way that the candidates should cover all the subjects i.e. he should cover at least 5 topics per each subject.
The candidate should spend more time for the difficult subject. He can maintain contacts with the lecturers to rectify their doubts.
Practicing model papers (previous & practice papers) helps the students to get full knowledge about the subjects and helps to attain good score.
During the preparation, he should not divert on other aspects and concentrate completely on preparation thinking of goal.
Before few days of exam, the student should leave books and spend freely for wiping off all tensions and stress. Time management is very important. Attend the exam center in time by carrying all necessary credentials mentioned in hall-ticket.
First answer all the questions in which you're aware and at last answer the un-attempted or doubtful questions. Sometimes it is necessary to make logical thinking to find an answer.
Don't conduct any malpractice during the examination. It leads to heavy damage to future.
AIIMS Model Papers
There are various model papers available for preparing exams. The students can either download or purchase books containing model papers. Some model papers are given solutions while some are not. Practicing model papers helps the students to attain good score in examinations.
AIIMS Notification
After checking the AIIMS Notification please note down complete AIIMS exam details such as eligibility, application details, fees, syllabus, exam patterns, model papers etc. given below. If you are willing to prepare for the exam, just go through complete article.
Requirements
Age:
Candidates who are willing to pursue MBBS should complete 17 years on/before December 31 of that year for admission. Candidate should compulsory be an Indian citizen or Overseas citizen of India (OCI). OCI's should provide or submit registration proof to appear for AIIMS entrance exam. Foreign Nationals, who are recommended by Government are not eligible to appear the entrance examination. They would be eligible only in AIIMS, New Delhi.
Education Qualifications:
Candidates should attain a good percentage with English, Physics, Chemistry and Biology as their core subjects in their higher secondary education or Intermediate. Candidates of General and OBC category should attain the aggregate of 60% and other categories like SC/ST/OPH should attain 50% for appearing AIIMS MBBS Entrance Examination. Foreign candidates who are nominated by Government should obtain an aggregate of 50% with English, Physics, Chemistry and Biology as their basic stream in Intermediate of Science or any equivalent examination to attain admission into AIIMS, New Delhi.
AIIMS Application
AIIMS applications might be available from 3rd week of January to 2nd week of February and can be filled only through online. If the candidate require any correction, it is possible only before the closing date and it is the right of every student to make necessary corrections in the application form before submitting the application before the due date. Look down for the process of filling an application form.
Application Process
Candidates who are unaware of AIIMS exam details and filing application form can go through the following step by step procedure.
Go through the official website www.aiimsexams.org.
Now click the link for opening application form.
Understand and enter all the fields in application form correctly.
Upload scanned photograph, signature and left thumb impression with prescribed format.
Check the application form before submitting. If submitted once, it's not possible to make any changes or corrections.
After checking, click on 'submit' button.
After submitting, you will obtain the application form. Take a print-out of it for future references.
Fee Details
Candidates who come under General or OBC are charged Rs.1, 000/- and SC/ST/BC are charged Rs.800 towards application fee. OPH's are fully exempted for paying application fees. The fee can be paid either through online or offline. The source for online payment may be either Debit card or Credit card or Net-banking and for offline payment, the candidate should download challan form and can be payable in any branches of SBI.
AIIMS Exam Hall Ticket
Hall Ticket or Admit card is an essential credential for attending exam. It is released either one week or two weeks before the examination and can be downloaded from the official website. Students who have submitted their hall-tickets in office for the exam can get the hall-ticket. Admit card contains information of the candidate like candidate name, roll no., candidate exam center etc. He should keep the admit card safe until the completion of the examination. In case of misplace, the candidate is not allowed to attend the examination.
How to Download Hall Ticket
Here is the procedure to download the hall-ticket or admit card. Just go through it.
Go to official website www.aiimsexam.org.
Enter the candidate's registration no.
Admit card download link will be appeared on the screen. Click it.
Take print-out of the hall-ticket.
Share this AIIMS Exam Details article with your friends and print this information to read offline. To bookmark our site press ctrl+D.