Idea Loan Numbers: This blog gives complete information about Idea loan. Here you are able to get a loan in your Idea service number. The idea gives 4 rupees loan of who are having idea service number. This Facility provide the way for calling in any emergency cases when you have not enough balance for calling then take loan in your Idea prepaid SIM and make call to your friend and family members easily and this loan will be deducted from idea servicer in next recharge by your Main Balance of Idea SIM and another plus 1 rupees fee means total 5 rupees will be deducted from your Main balance of idea number.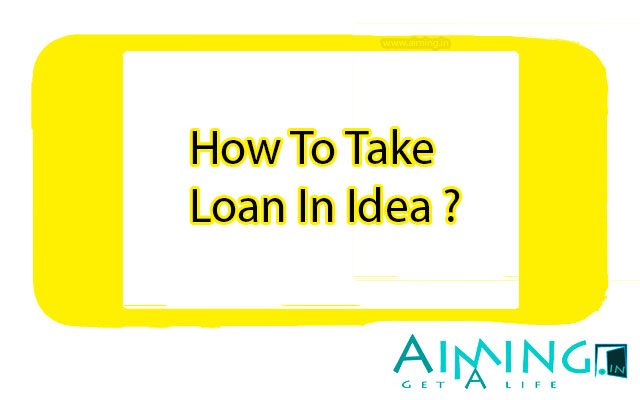 Idea offers minimum talk time loan of 4 rupees only for which they can dial 53555 and press 5 or they can USSD code *444# from their Idea number. Idea deducted Rs. 5 on next recharge.
Also see: How to transfer balance from Idea to Idea, Idea USSD Codes List, How to share net balance in Idea.
HOW TO USE THE LATEST IDEA LOAN CODE FOR 2016:-
Some people are searching Idea loan codes here are the some codes are given below. Now a day's Idea Indian mobile operators provide the facility of transfer talk time from idea one mobile to another idea mobile. This service is very useful when a prepaid idea customer run out of talk time balance and they are far away from an idea recharging point so by using this service they can get talk time from their family or friends who owns the idea service mobile number of the same mobile operator.
*150*10# this Idea loan number is used to get ten rupees talk time on your Idea number for dialing. But for this, your balance should be less than two rupees and you must be an Idea customer for past three month users. For ten rupees idea loan, they will deduct Rs 13.80 from your next recharge.
*165*5# this Idea loan code is used to get 5 rupees talk time on your Idea number for dialing. For this, they will deduct six rupees on your next recharge. But for this, your idea balance should be less than one rupee.
*444# this Idea loan number is used to get 4 rupees talk time on your Idea number for dialing. After getting loan four rupees on your mobile5 rupees will be deducted on your next recharge.
SOME IMPORTANT NUMBER OF IDEA LOAN NUMBER ARE GIVEN BELOW:-
Here are the given some Idea loan number  for four rupees, five rupees, ten rupees USSD Codes. To Get five rupees talk time loan on Idea just dial Idea Loan Number of *165*5#. They will deduct six rupees for this service. But your balance must be below one rupee. Well, you can also get Rs 4 loan on Idea by dialling Idea Loan Number of *444#
Also see: How to do Idea net balance check, Idea PUK Code Details.
HOW TO ACTIVATE IDEA TALK TIME LOAN NUMBER FROM YOUR MOBILE:-
The person who has idea service number remaining talk time or balance amount must be between 0 to three rupees. And you must be using an Idea Prepaid Mobile Number and also must not have any pending loan amount already taken from Idea service number. Your idea mobile number must be older than at least 3 months period. These are the conditions of how to activate Idea talk time loan number from your number. Given below are the USSD Codes.
Open dialer of your idea service number mobile.
And after Dial, the USSD code of Idea talk time loan number is *150*10#
After dialling the USSD code, then press call button from your mobile.
You will receive a message from the idea service care and says that "your emergency talk time will be credited soon".
Finally, after one minute check your balance.
Getting Loan amount is very useful when the critical time arises. So the customers can take loans at this condition and whenever they reaching to the recharge point, then they can again recharge. For this, Idea will charge a small amount from customers.
VERY USEFUL IDEA INTERNET LOAN NUMBER ARE GIVEN BELOW
The Idea Internet loan number which we are going to take in idea service is an "idea 2G internet loan". There is no telecommunication service company in India out there who Provide 3G data loan right now but I think it will be next launch of service in India when 4G network will be available all over our country. 4G is available in some cities like Delhi, Mumbai etc.
HOW TO TAKE 2G INTERNET FOR IDEA INSTRUCTIONS ARE GIVEN BELOW LATEST
The 2G internet for idea service is available for those Idea subscribers whose Idea connection are older than 3 months.
It should be no previous loan pending on your idea number.
You must be using idea prepaid SIM card and balance should be less than2.
LATEST USSD CODES OF 2G INTERNET IDEA FOR 2016 PROCESS
Go to menu in your idea service mobile.
Just dial *666# which is the Idea internet loan USSD code.
After dialling the USSD code just press the call.
And you have done the process, you will be provided with 2G internet loan of 30 MB with 2 days validity.
After two days you should pay idea cellular six rupees.
HOW TO TAKE IDEA SMS LOAN NUMBER THROUGH YOUR IDEA SERVICE MOBILE?
Idea company is the first started the Talktime Loan facility for their idea service customers. Nowadays Idea also offers SMS and Internet loan with Idea Talktime Loan facility.
Here this blog clarifies doubts like how to take Idea SMS loan in Idea. You have to dial *565#.  You will be provided 50 local and national SMS.
Your connection must be 60 days old.
You should not be a debt of any previous Loan of Idea.
Your Main Account balance should be less than Rs. 5.
You should not have any message pack or Plan.
You should agree to pay Rs. 6 on your next recharge.
Similar Posts: